Hello, next gen front ends!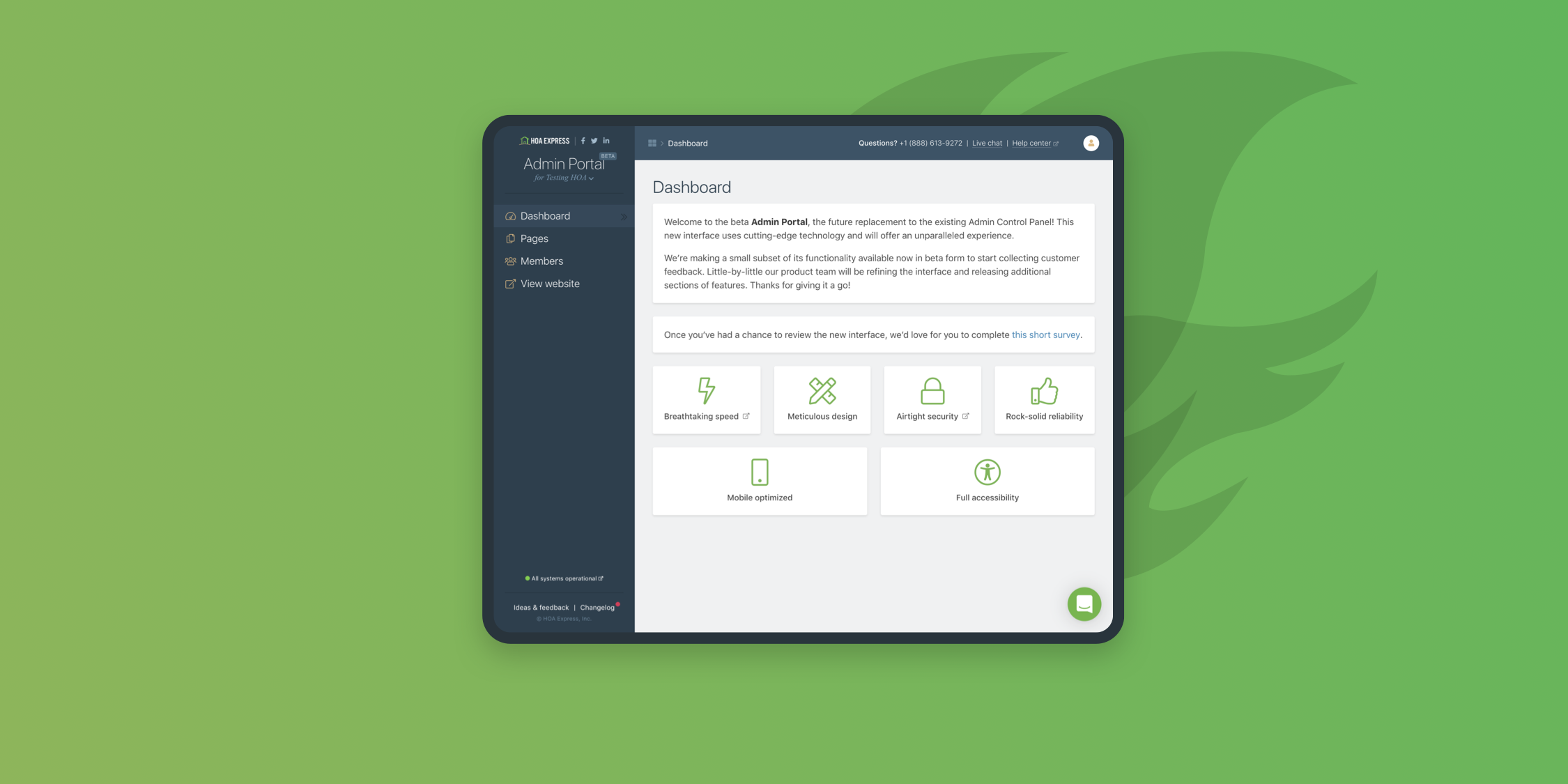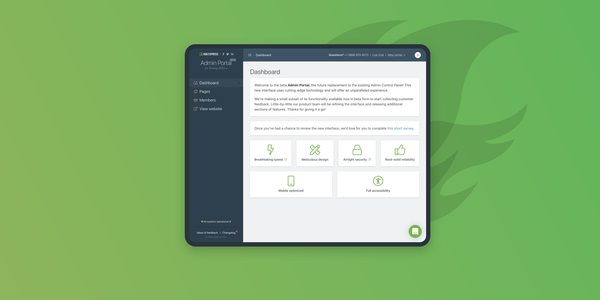 We first teased the fact that we had embarked on completely redesigning our front end interfaces back in our March recap. Dubbed as "next generation," these new interfaces will be total rewrites of our existing front ends (e.g. the Admin Control Panel, setup wizard, company website, community websites, etc.) using entirely different technology and visual design.
In this article we'll discuss the future of HOA Express's front ends; plus, we're taking the wraps off of part of one for initial beta testing. Keep reading to delve into the design, rationale, and technology that is going into their meticulous crafting.
Thoughtful rationale
As we go about redesigning our front ends, we're focused on two core goals. First, we're selecting new technologies that will allow us to meet the demands of our growing customer base and product team for many years down the road. This means choosing technologies that perform well with large numbers of users, that are easy to maintain with an increasing number of software engineers, and that ensure an unmatched level of reliability.
Second, we're refreshing the visual appearance—without significantly changing the functionality. We're proud of how frequently our customers praise the ease-of-use of our software, and combined with the inherent change-averse nature of humans, we're not looking to reinvent the wheel.
With that in mind, you'll find that although the overall aesthetics of the new front ends will be much improved and the underlying technology completely different, the organization of the features themselves will be largely unchanged. They should still feel very familiar.
Cutting-edge technology
Let's dive into some tech talk. Like the new infrastructure that powers HOA Express 3.0, we've selected technologies used by some of the largest and most innovative software companies on Earth to power our new front ends.
Our new front ends will be powered by React, the growing standard for large modern user interfaces. React enables our product team to develop with a level of speed and confidence no other technology quite achieves. Created initially and used extensively by Facebook, the technology also powers Netflix, Twitter, Pinterest, Instagram, The New York Times, Uber, Airbnb, Dropbox, and millions of other websites.
Also of note, our new front ends will generally be designed as "single-page apps." This means your browser won't need to reload everything completely fresh as you navigate from one page to the next. Instead, only the content that needs changing is loaded. The difference is palpable; pages transition nearly instantly and the time it takes to complete any task is dramatically reduced.
Introducing the Admin Portal
As the future replacement to the Admin Control Panel, the new Admin Portal is designed to blend beautiful modern aesthetics with the remarkable simplicity we value so highly. The result is nothing short of stunning.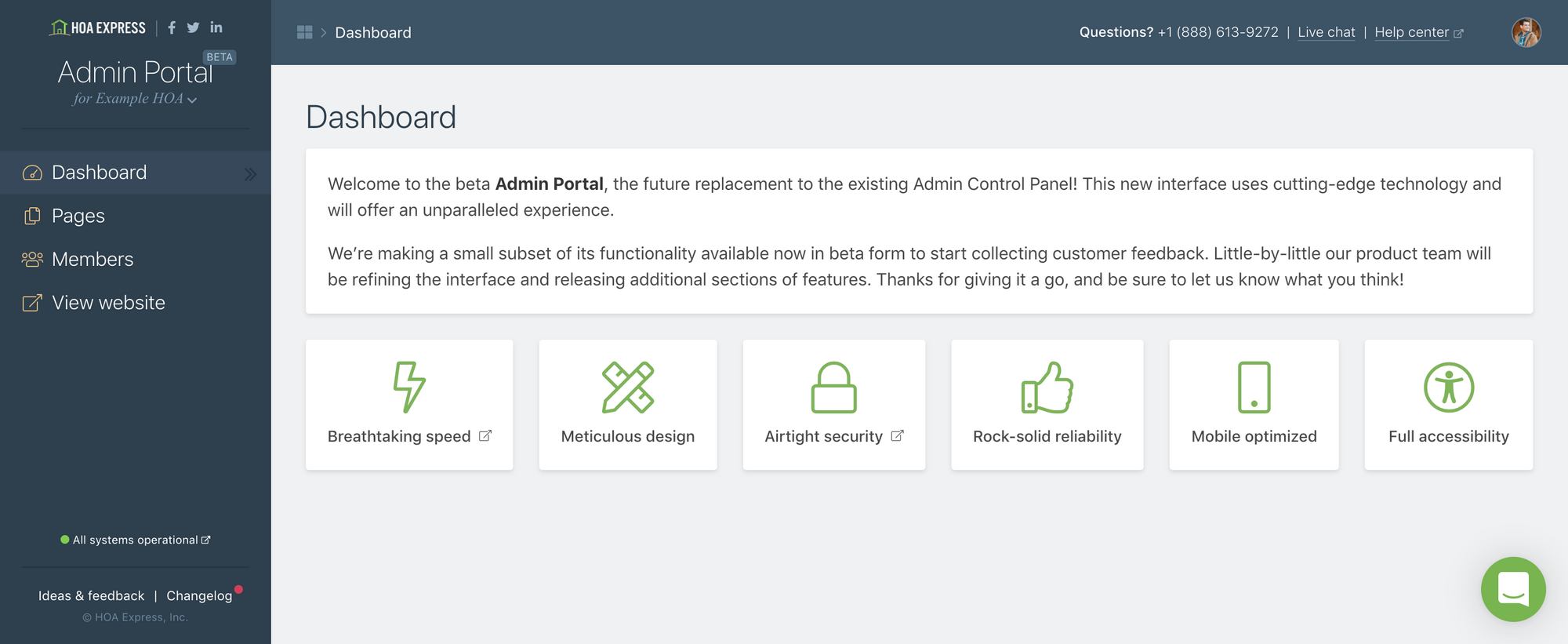 Most noticeably, the updated layout features a sidebar along the left. This design choice leaves more vertical space for viewing content on today's larger screens, ensures we can fit links to every section of the Admin Portal, and is conducive to a cleaner design for header and footer content.
While there are many, many improvements, here are some of the highlights:
Distinctive color scheme inspired by our three company colors
Use of more icons throughout, to offer better visual cues
Breadcrumbs in the top bar help users navigate
"Questions?" section at the top makes it even easier receive answers
Sleek new notifications system
Ability to quickly switch between community websites without leaving the page
Perfect scores from both Mozilla Observatory and Qualys SSL Labs for security
Near-perfect score from Google's rigorous PageSpeed Insights speed test
Designed from top-to-bottom with accessibility in mind
Optimized for mobile devices
What's next
To start, we're releasing the first two sections of the Admin Portal: pages and members. They're available to test out here. We'll capture feedback from customers and use it to guide our team as we build out the remaining sections. Once you've had a chance to test the new interface, please fill out the short survey linked to from the dashboard!
One-by-one as our product team completes the remaining sections, we'll release them for users to beta test. Keep an eye on social media and our changelog for announcements about that.
During this time, our focus will be on recreating the existing functionality of the Admin Control Panel. To that end, there won't be many "new" features incorporated until after the Admin Portal exits the beta period.
We hope you enjoy the strides we're making toward our next generation front ends!