Introducing HOA Express 3.0!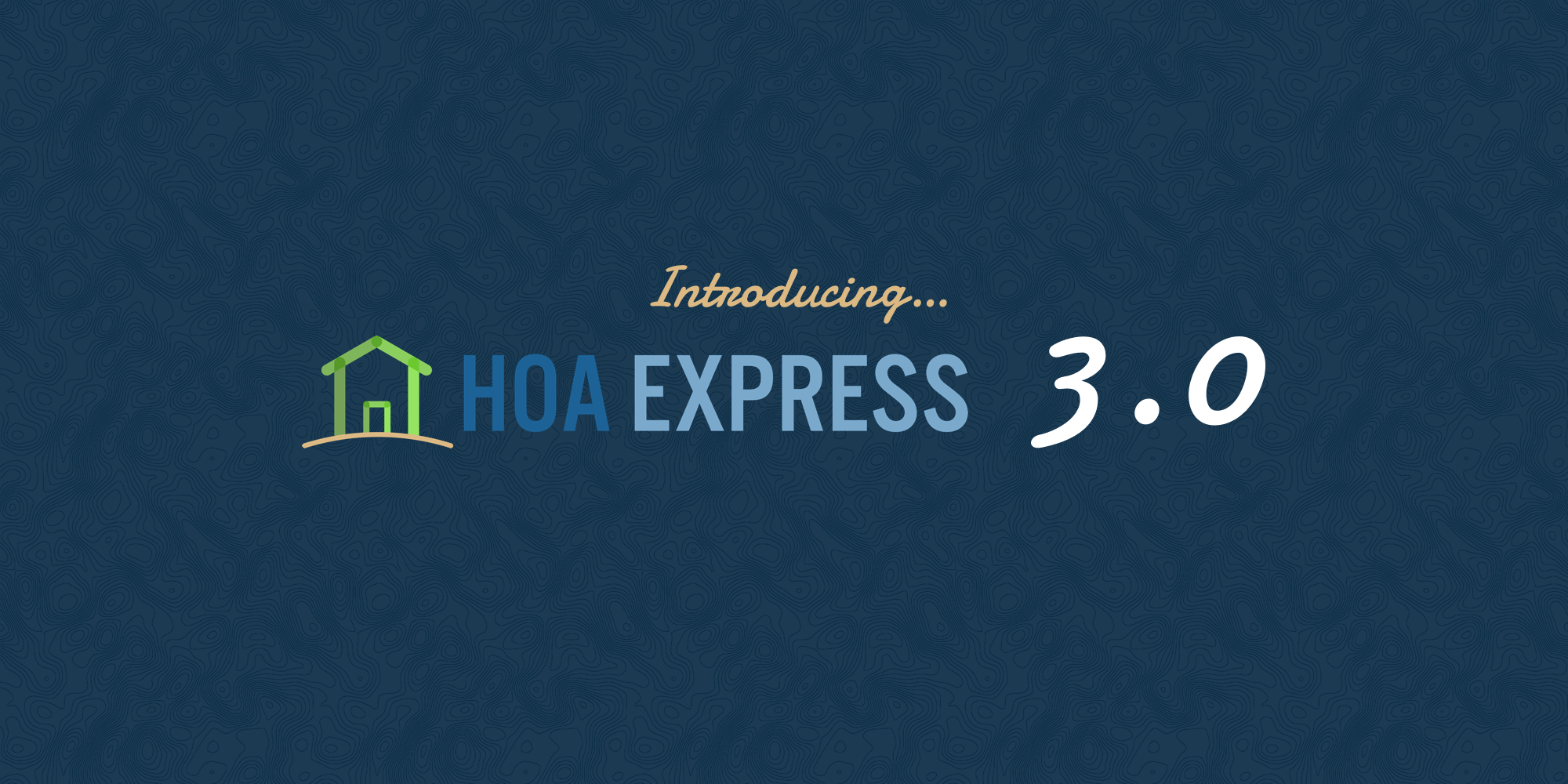 Today marks a little over two and a half years since we released our last major update. In the meantime, our team has been improving upon the world's greatest community website builder—adding fully integrated online payments, releasing blast text messaging, creating a fully-automated letter mailing solution, introducing free address verification and standardization, and adding support for over a dozen new countries. We've also been quietly hard at work on something else. Today, we're excited to announce our next giant leap forward.
Since launching in 2011, we've grown at an incredible rate. Thousands of communities and millions of people now use our software. We send tens of millions of emails, text messages, and mailed letters every year. Operating at this scale allows us to do things others can't—like protect every website with 100% SSL encryption, provide a free domain to every deluxe plan community, and offer text messaging at no extra cost.
But operating at such a large scale is also challenging. To keep up with the growth and maintain our fast pace for releasing new improvements, we knew we needed to overhaul the infrastructure that powers HOA Express and its community websites. HOA Express 3.0 is the realization of this monumental goal.
Cutting-edge technology
To prevent endless rebuilding as we grow, we modeled our new infrastructure after the world's largest websites. The consensus was clear; we needed to use containerized microservices powered by Docker and Kubernetes. Sound like mumbo-jumbo? That's okay—you don't need to be a software engineer to benefit from our upcoming update!
What you need to know is that this new technology will allow us to provide blazing-fast performance and rock-solid reliability. Designed to meet the demands of our company years down the road, our new infrastructure will be even more enjoyable to use with minimal unexpected issues. And it will ensure our company continues to lead the industry in security and website performance.
Restructured resident information
Have we mentioned we love customer feedback? With this new update, we took the opportunity to implement many of the most common requests from customers regarding resident data:
Add more than two addresses to an account
Give privileges to just one person in a household
Store people without email addresses
Make the gender field optional
Create custom classifications
I'm pleased to say that all of the above will be possible in 3.0. As you may have guessed, these are some pretty extensive changes that require altering how we store information about residents. Yet, we've done so in a way that's as intuitive as possible.
With the new structure, information about people associated with your community will be organized into members and accounts. A member is an individual person, while an account simply groups together members and addresses. Every member will be linked to exactly one account, even if they're the only member in that account.
An account will typically represent a single complete household, but can also represent any other group of people (like your property management company). In addition to an unlimited number of members, accounts will now be able to hold an unlimited number of addresses.
Members will be able to log in individually, using their own email address and password. This is different than the current design and will allow admins to start granting individual members administrative privileges and placing individual members in a group, rather than doing this for an entire household.
The new update will also enable registering or importing members, even if they don't have an email address or it's unknown. If they do have an email address, they'll be able to log in, receive communications, and manage their settings like normal. If not, they'll still be able to receive mailed letters and will be visible to administrators.
Increased flexibility
HOA Express 3.0 makes it easier than ever to store non-resident members on your website, like employees, contractors, and property managers. We've achieved this by renaming "residents" to "members" and "accounts," along with introducing account type address requirements.
What are account type address requirements? You'll be able to specify for each account type (currently called "classification") which type of address is needed. For example, you might require all homeowners to provide at least one address inside your community, whereas, for a prospective resident, you might require at least one address located anywhere. For a property manager or contractor, you might not ask for any address at all.
You'll also be able to create any number of custom account types for your community's unique needs.
Other improvements
Although this update focuses on behind-the-scenes infrastructure and member data organization, there's still a plethora of other enhancements coming with the new update. Here are some of our favorites:
Permanent communication sending logs
Blast emails can be scheduled up to 30 days out (up from 10 days)
Faster online payments payouts
Ability to restore recently deleted email accounts
Improved searching across the board
Completely revamped import tool
More accurate address verification and standardization
Addresses are now designated as inside/outside the community
Ability to designate a preferred mailing address
Can choose a separate country for online payments
Dramatically faster text message sending velocity
Faster, more reliable letter mailing tool
Doubled activity log storage from 60 days to 120 days
Profile photos can now be cropped before uploading
What's next?
We'll announce a firm release date with more details about the transition in the coming weeks. In the meantime, our customer success team will be posting periodically to our blog with articles that take a closer look at some of the most notable new changes and features.
You can also help make the transition happen smoothly for your community by providing a few extra details we'll need going forward. You'll be prompted in the Admin Control Panel to complete this step if you haven't already done so.

What about after the update? We're eager to capitalize on the enhanced ability to release improvements that this update brings. There's still more work to do to ensure our platform is utilizing the latest technology from top-to-bottom, but we're headed in the right direction. To help us accomplish all of this, we're looking forward to growing our team further with more hires.
Wrapping up
We hope you and your community are as excited about this update as we are! Be sure to stay tuned for more details and blog posts. If you have any questions, thoughts, or feedback, feel free to reach out to our customer success team.