Upgrading to 3.0: What to expect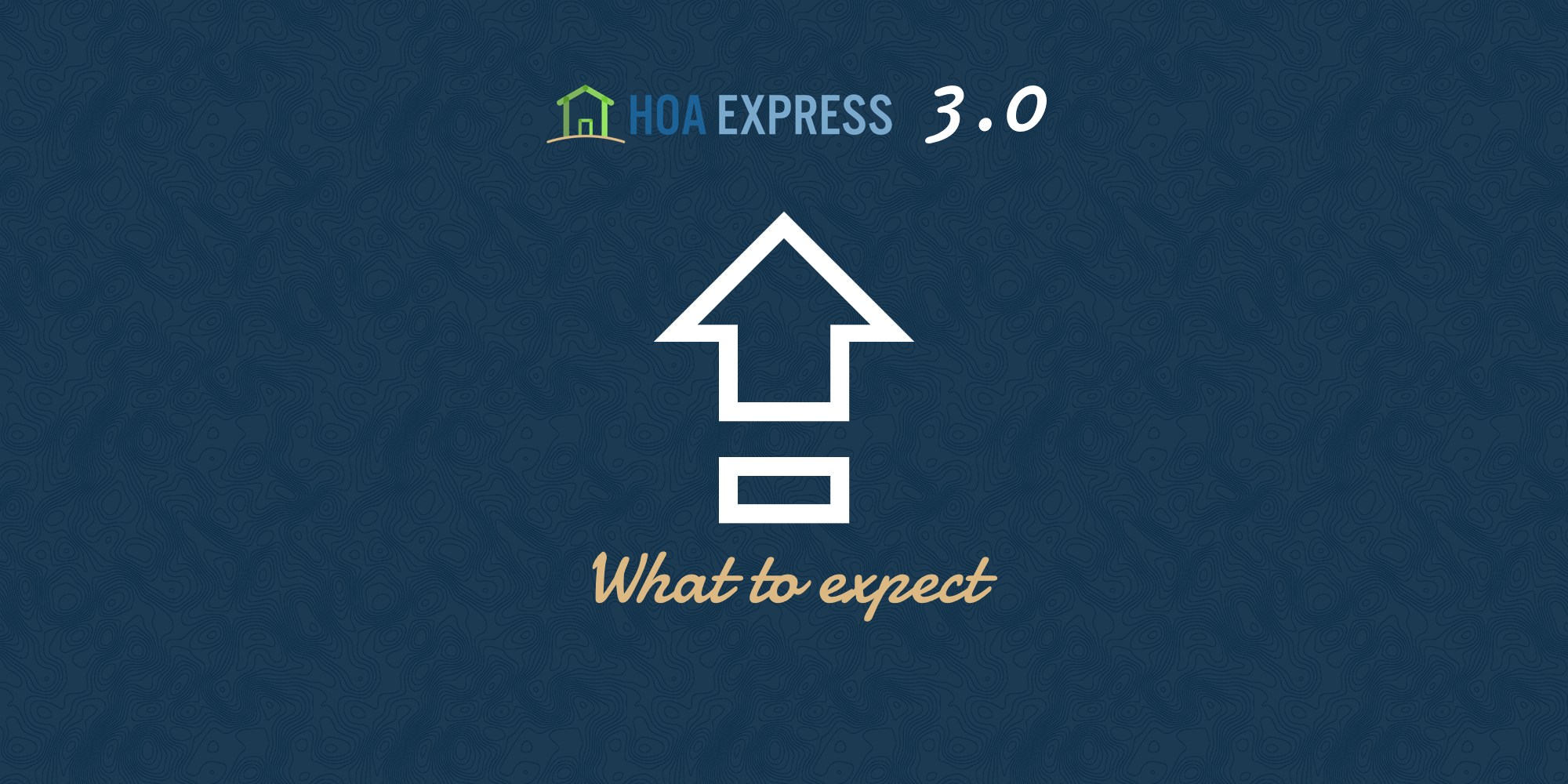 Our exciting upgrade to HOA Express 3.0 is just around the corner! We'll be making the transition on November 14th, about two weeks from now. The process should be relatively effortless since most of the improvements are behind-the-scenes. Just to make sure there are no surprises, this post covers everything you need to know.
Getting ready
Provide a few extra details
Have you provided us with the additional information to help with the upgrade? If not, visit your website's Admin Control Panel to do so! You can find the prompt in the blue notification box, shown below:
Double-check your community's location
Your community's location will be used more extensively in HOA Express 3.0. Most importantly, it will be used to complete addresses inside your community, which will conveniently only require the member to specify the street address and unit number. The rest (e.g. city, state, ZIP code) will be retrieved automatically from your community's location.
When we perform the upgrade, any address that has a different location than your community will be designated as an address outside of your community. While this doesn't have a huge impact, it is helpful to know which addresses are inside your community vs. outside your community.
Therefore, be sure your community's location matches the location used by addresses inside your community. You can verify and update your community's location from the "Settings" section in the Admin Control Panel.
Scheduling emails temporarily paused
Due to how they're stored now, we wouldn't be able to keep scheduled blast emails during the upgrade process. Therefore, to prevent lost emails, we've disabled the ability to schedule emails for now. But get excited—on HOA Express 3.0 you'll be able to schedule blast emails up to 30 days in the future (up from just 10 days now).
The upgrade process
On November 14th, we'll start upgrading websites first thing in the morning and continue throughout the day. Our company website (www.hoa-express.com) will be the first to transition to the new version, so any newly created websites after that point will start on HOA Express 3.0.
A handful of websites at a time, our upgrade process will transition communities to the new version. We expect the process to take less than 10 minutes for each individual website. If you happen to visit your community's website while it's upgrading, you'll see the following notice:

If you see this, check back in a few minutes and your website should be fully upgraded to HOA Express 3.0!
Follow us on social media
We'll be posting about our progress on social media, so be sure to follow along on Facebook or Twitter. We'll announce the start and finish of the upgrade, along with occasional progress updates as needed.
After the upgrade
New temporary address ending
We're updating temporary address endings from .hoa-express.com to .communitysite.com. This will result in more memorable website addresses, and it will strengthen our security practices even further.
Websites with a custom domain (e.g. yourcommunity.com) won't be affected by this change. If you use a temporary address currently, your current address will still work for the foreseeable future. We simply encourage you to share the newer and more memorable website address with community members going forward.
New channel for support
With HOA Express 3.0, we're taking our customer support to a new level! In addition to the familiar email and phone support channels, we'll be offering live chat support from the Admin Control Panel, our company website, and our help center. We'll be able to communicate conversationally about questions in real-time, without giving up the ability to send links, images, and help articles. Live chat combines the best of both email and phone support into a format we're especially enthusiastic about.
Shortened maximum lengths
A number of text fields will have shorter maximum lengths, to preserve visual appeal and brevity. For example, group names now have a maximum length of 60 characters to keep them quick and easy to read.
For the vast majority of communities, this won't affect any data stored on your website. We chose lengths that were still sufficiently large enough to hold even text that was on the longer end of what was normal for each field.
A handful of communities might notice that some fields have been cut a bit short after the upgrade. This means they were too verbose, and you'll want to update those fields to something more concise.
Data/activity associations
Because members will be logging into their own member profile now, going forward data and activities will generally be associated with individual members rather than entire accounts. After the transition, data that used to be associated with entire accounts on the old version will typically be associated with the first member on the account.
For instance, website activities are currently associated with the whole account and appear as "John & Jane Doe" in the activity log. Assuming John is the first member of the account, after the transition, the activity will be associated with John only, even though it's possible Jane was the one who actually performed the activity.
Potential for bugs
In preparation for this update, our team has spent hundreds of man-hours testing the upgrade process and everything about the new version. However, as with any software, there's potential for unexpected issues or problems.
Therefore, our product team will be ready at the outset to address any issues as rapidly as possible. If you discover a bug, reach out to our customer success team and we'll take care of it right away!
Other notes
Briefly, here are some other small points you may want to be aware of:
Historical tracking for communications that were sent on the old version won't be available after the update.
Unpaid invoices will be regenerated during the migration process. This will result in a new notification email and a new invoice number. If you've already mailed a check with the old invoice number, that's not a problem at all—we'll still be able to associate it with your community.
Accounts currently classified as homeowners, renters, lot owners, or non-owner residents will default to requiring an address inside your community. All other accounts won't ask for addresses and therefore won't have any addresses associated with them after the upgrade.
Wrapping up
We're eager to bring these improvements to you and your community. If you have any questions about the process, please don't hesitate to reach out to our customer success team.