Helping you communicate with your community in the digital age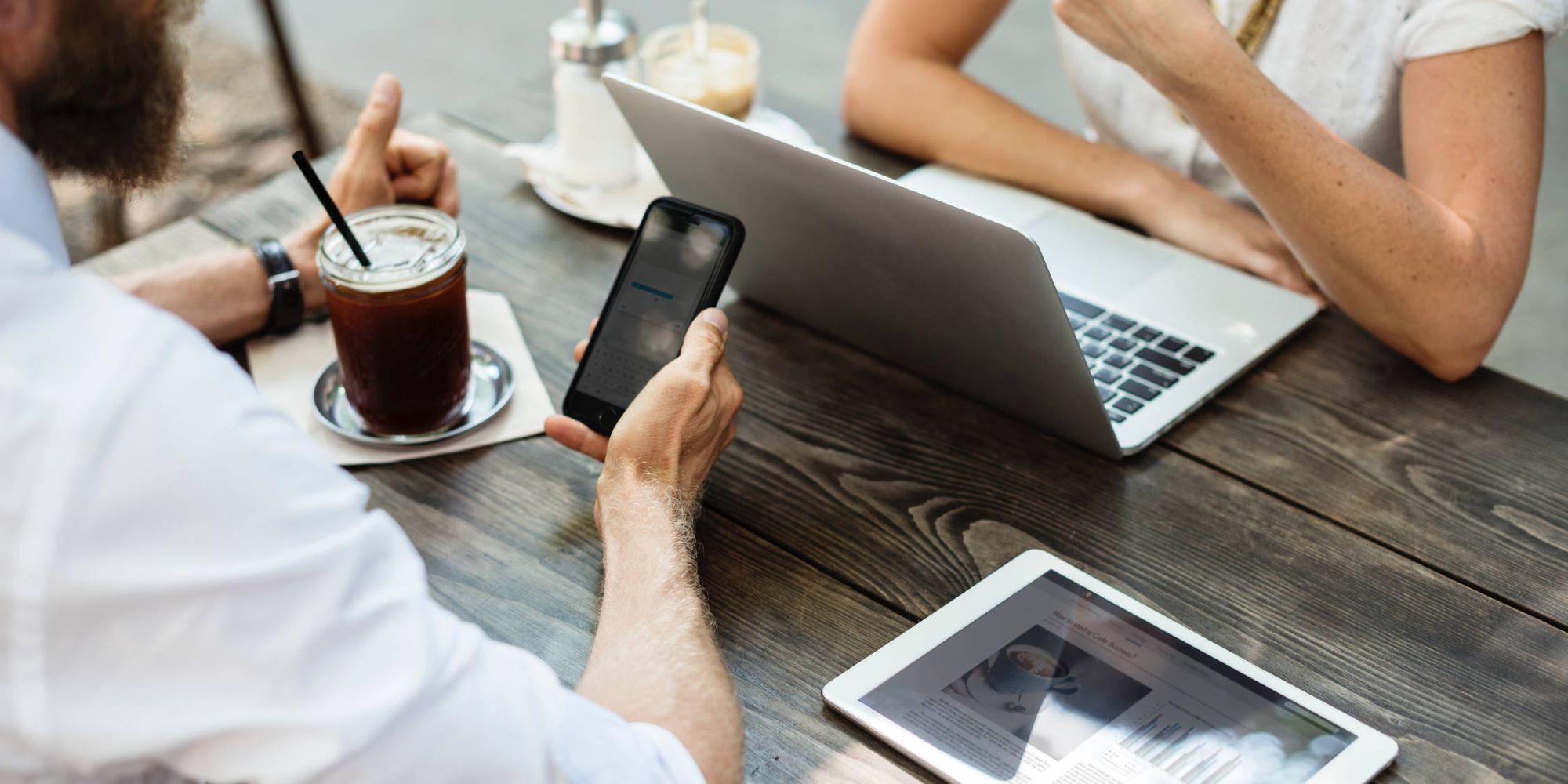 This article was updated in May 2019 to reflect changes made to our software since this was originally published.
The digital age we live in has created a new standard for how we communicate with each other on a day-to-day basis. Information has never been so easily accessible. As a result, the rate at which users demand this information continues to rise.
To meet these growing needs, we've implemented crucial communication tools to help you connect with your residents in a way that meets these new standards.
Two of these communication tools we'd like to highlight are our blast emailing and text messaging features. They are both located in the "Communications" section in your Admin Control Panel, and accounts with the "communications" administrative privilege can access these features and send them out.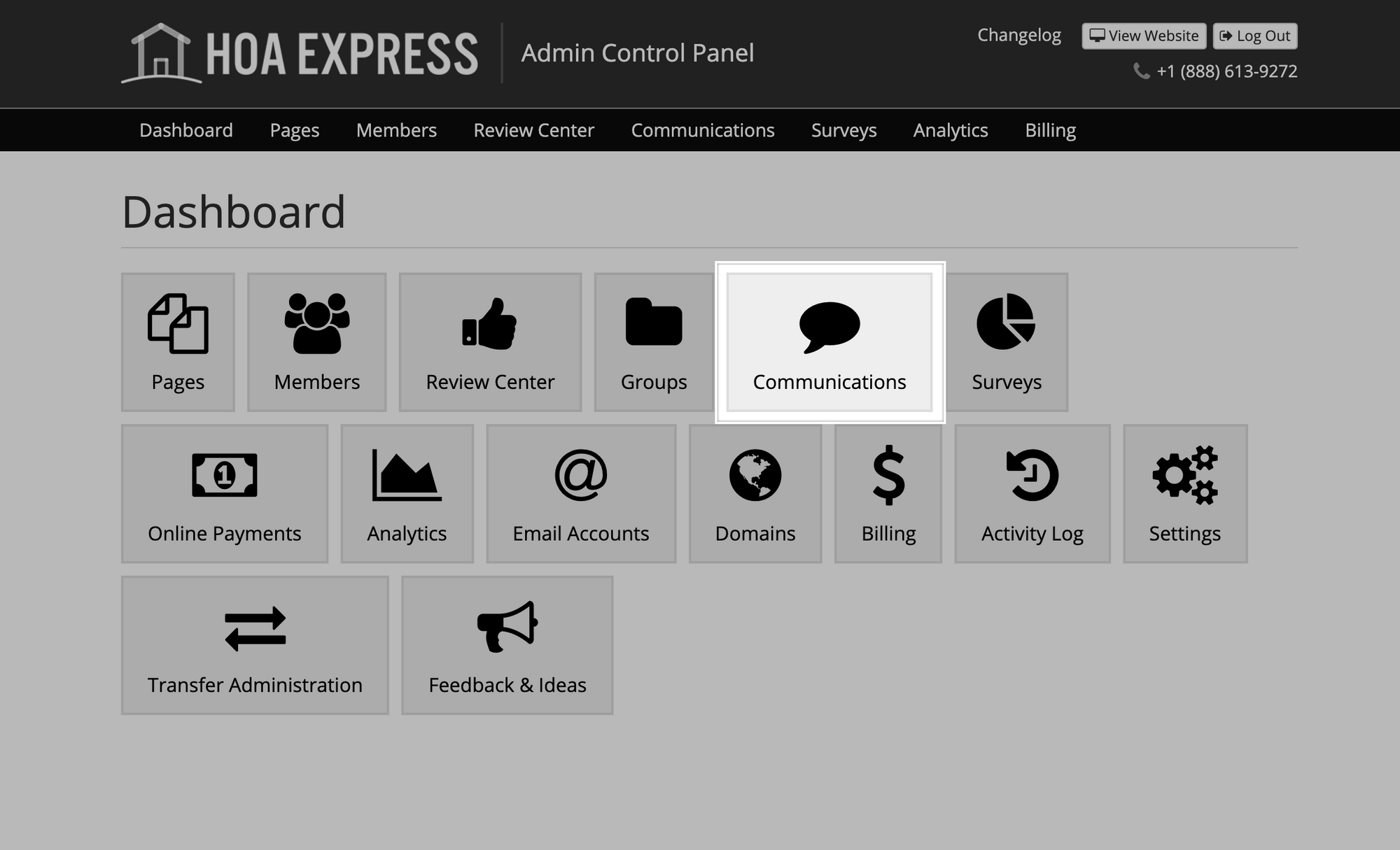 Both of these features allow you to communicate with your community in an efficient and expeditious manner. However, they also each possess unique characteristics to fit your community's communication needs, which we've laid out for you below!
Blast emailing
Our blast emailing feature makes it easy for you to send out announcements, alerts, newsletters, reminders, and updates to your community! We've listed some examples of when you may want to send these out below:
Alert residents of upcoming events in your community.
Send out reminders of unpaid payment options.
Notify residents of newly created surveys that are available for them to fill out in their notifications center.
This feature also offers you flexibility in what you're able to include in the email message. You have the option to add lists, photos, files, and links to supplement the text of the email message.
You additionally are able to select to whom you would like to send your blast email. The options include different classifications, groups you've created, genders, and those who have paid or not paid a specific payment option.
To top it off, you are able to choose when you would like to send the email message; immediately or up to 30 days in advance. You can even send a preview of the email to yourself to make sure it looks perfect before sending it off to your selected recipients!
An example of a blast email is provided below: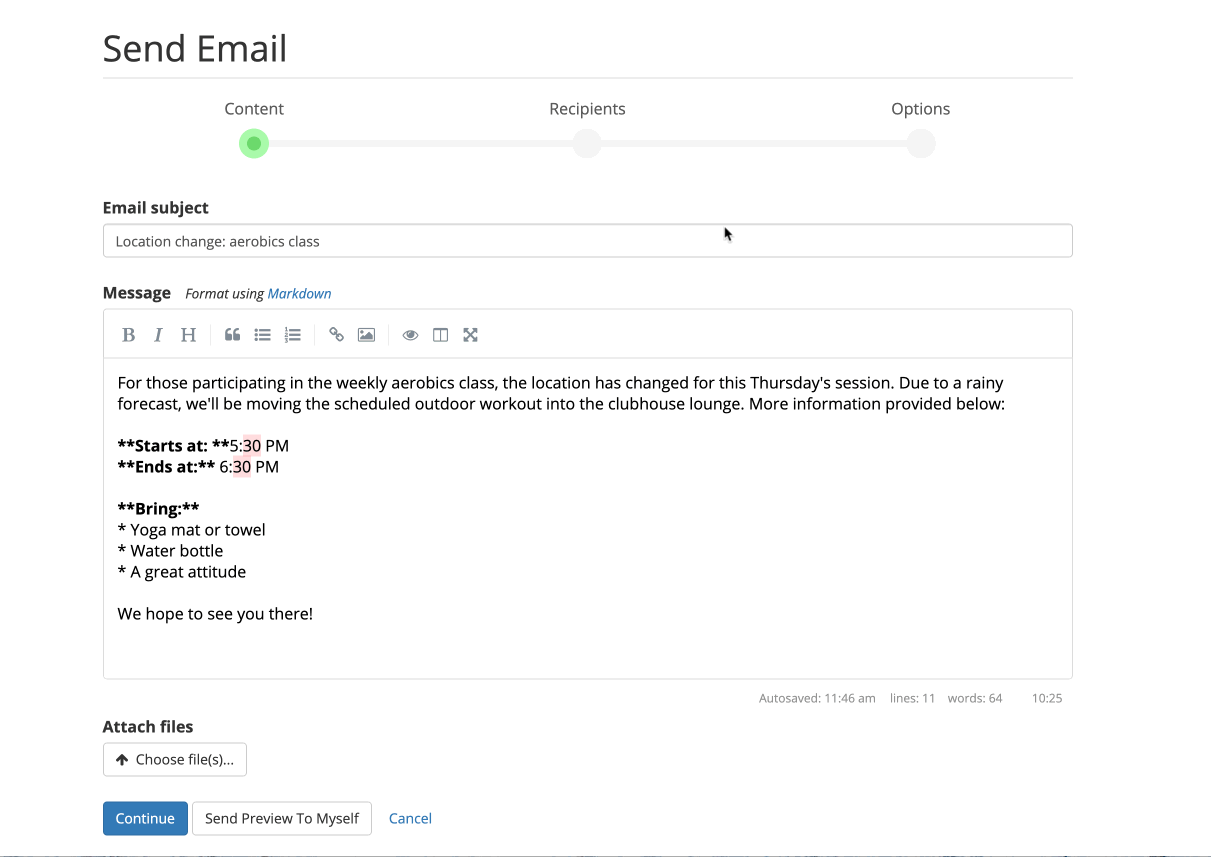 Text messaging
The text messaging feature is another great way to send out quick and short announcements to your community. A situation where you may want to use this feature would be to remind everyone of a board meeting or to send out an urgent alert. Since most people have mobile devices on them a majority of the time, using text messages to communicate is a great way to get out an urgent message!
Our text messaging feature differs from the blast emailing in that you'll want to use shorter text and write simpler messages. Therefore, if you have a short message you need to get out quickly to residents, this feature may be the best option for you. Despite text messages being a challenging and relatively expensive form of communication, we're proud to provide 1,500 monthly credits for free to all deluxe plan communities. If you'd like to learn more about these credits, visit the following link: text message credits.
One thing to note, these messages will only be received on mobile devices that receive text messages. Meaning, residents will want to be sure to add a cell phone number to their account to receive these important messages!
Provided below is an example of how to send out a text message from your website:
Wrapping up
Both of these features offer you the ability to communicate and connect with your community in a way that keeps up with the fast-paced world we live in today. Whether you'd like to send a detailed message or a quick reminder, using these tools will ensure residents remain in the loop and receive information quickly.