Creating accounts on 3.0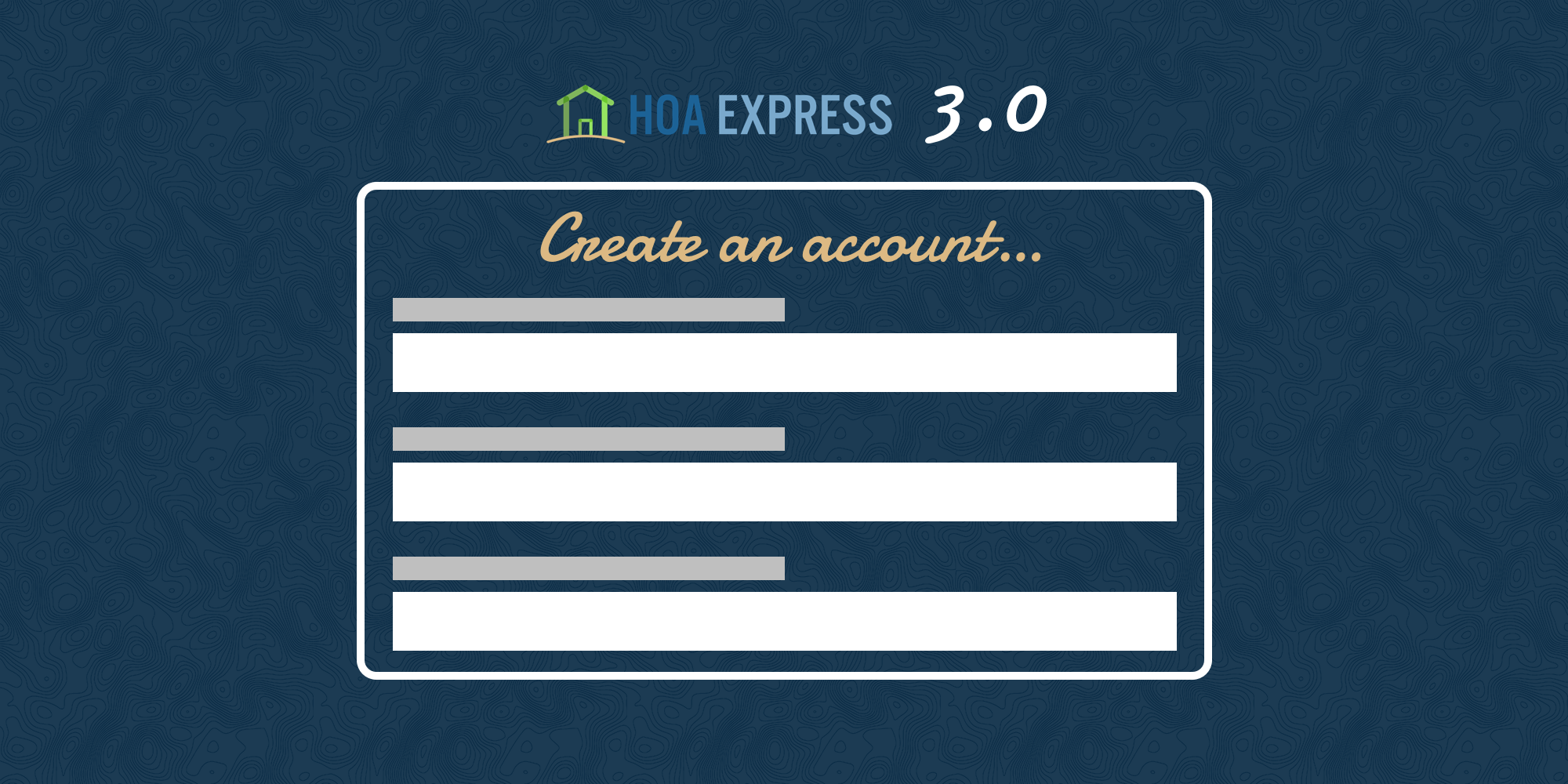 Now that you have a better idea of how members and accounts will be structured on the upcoming HOA Express 3.0 update, it's time to take a closer look at how those accounts can be created on your website!
With this new release, the same two methods for creating accounts will be available: registering and importing. However, there are a few pleasant differences that take advantage of the new structure and allow for more flexibility. Keep reading to learn more about the improvements you can look forward to!
Required information
Based on customer feedback and a desire to make our system more capable of including all members, we decided to make some adjustments to what information is required when creating an account:
Providing gender will now be optional; plus, admins will have the ability to hide this field entirely.
Email addresses will no longer be required for members, but they're still highly recommended!
Registration settings
With HOA Express 3.0, administrators will now be able to customize even more registration settings from the "Settings" section in the Admin Control Panel. We recommend deciding on the following registration settings before inviting members to register on the website or importing them.
Unit number
One of the options you'll have is whether the unit number field is required, optional, or hidden for addresses inside your community. Condominiums will typically require this field to be filled out, while neighborhoods of just houses will often hide this field entirely.

Gender
As an administrator, you can now select if you'd like to ask for a member's gender or hide this field completely. This gives you more flexibility and control over what information you'd like to collect from your members.

Custom account types
Administrators will also be able to create any number of custom account types (currently called "classifications") to fit your community's unique needs!
For each account type you create, you can also set specific address requirements. This will determine what address information (if any) is needed when creating that type of account.
For example, you could require all homeowners to provide at least one address inside your community, whereas, for a property manager or employee, you may not require an address at all.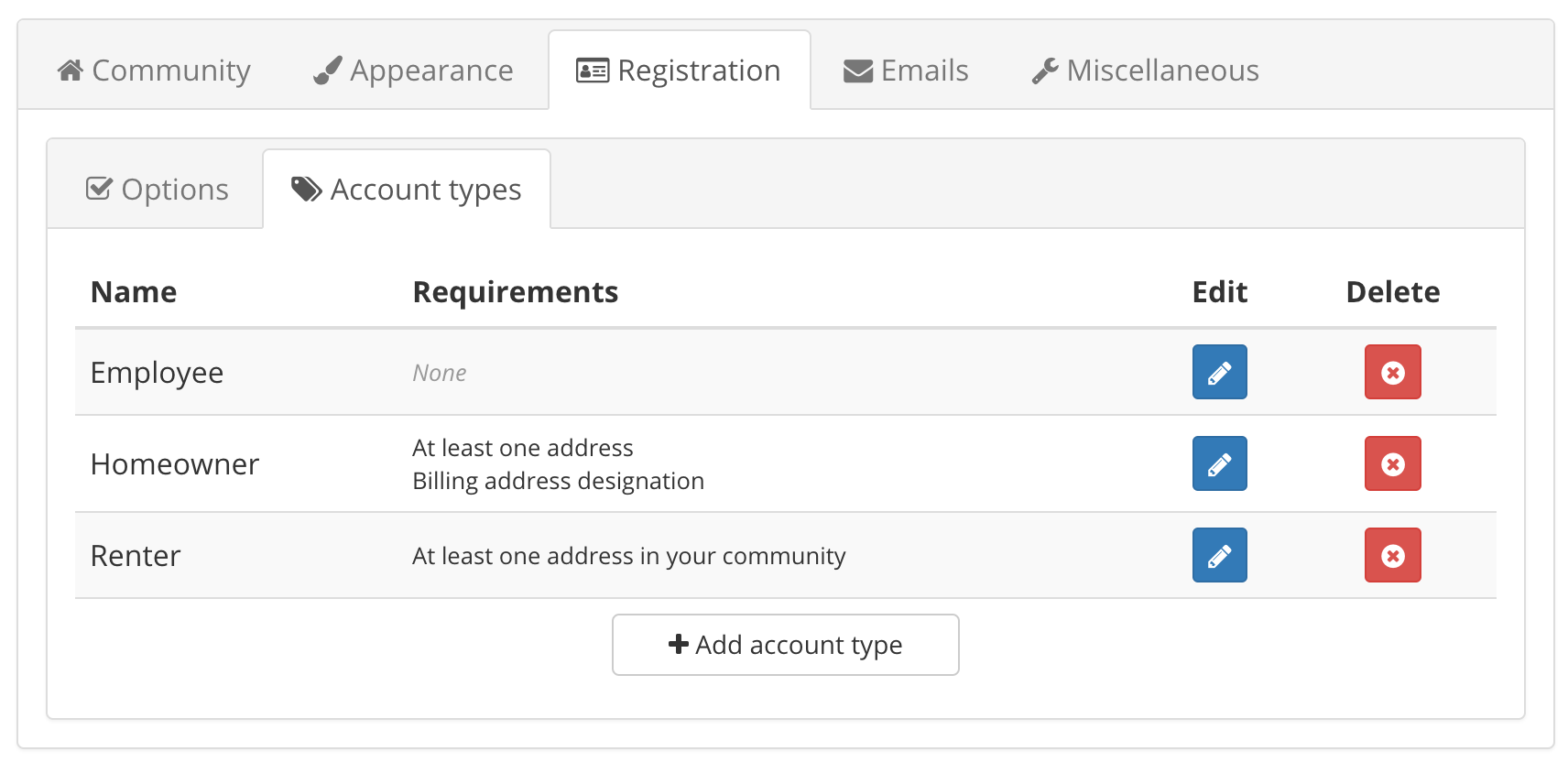 Registering for an account
Having a registered and approved account allows a member to access restricted pages, contribute to interactive pages, and receive communications, among other things on your website.
A member can register themselves or their household for an account by clicking on the "register" link in the upper-right-hand corner of your website and filling out the registration form. After they submit their registration request, an administrator will need to approve that account for them to gain full access to your website.

With the current setup, when registering, only two people can be listed on an account. However, with HOA Express 3.0, users will be able to add as many members to their account as they'd like when registering! This includes joint members and specially-designated members (e.g. pets, children, relatives).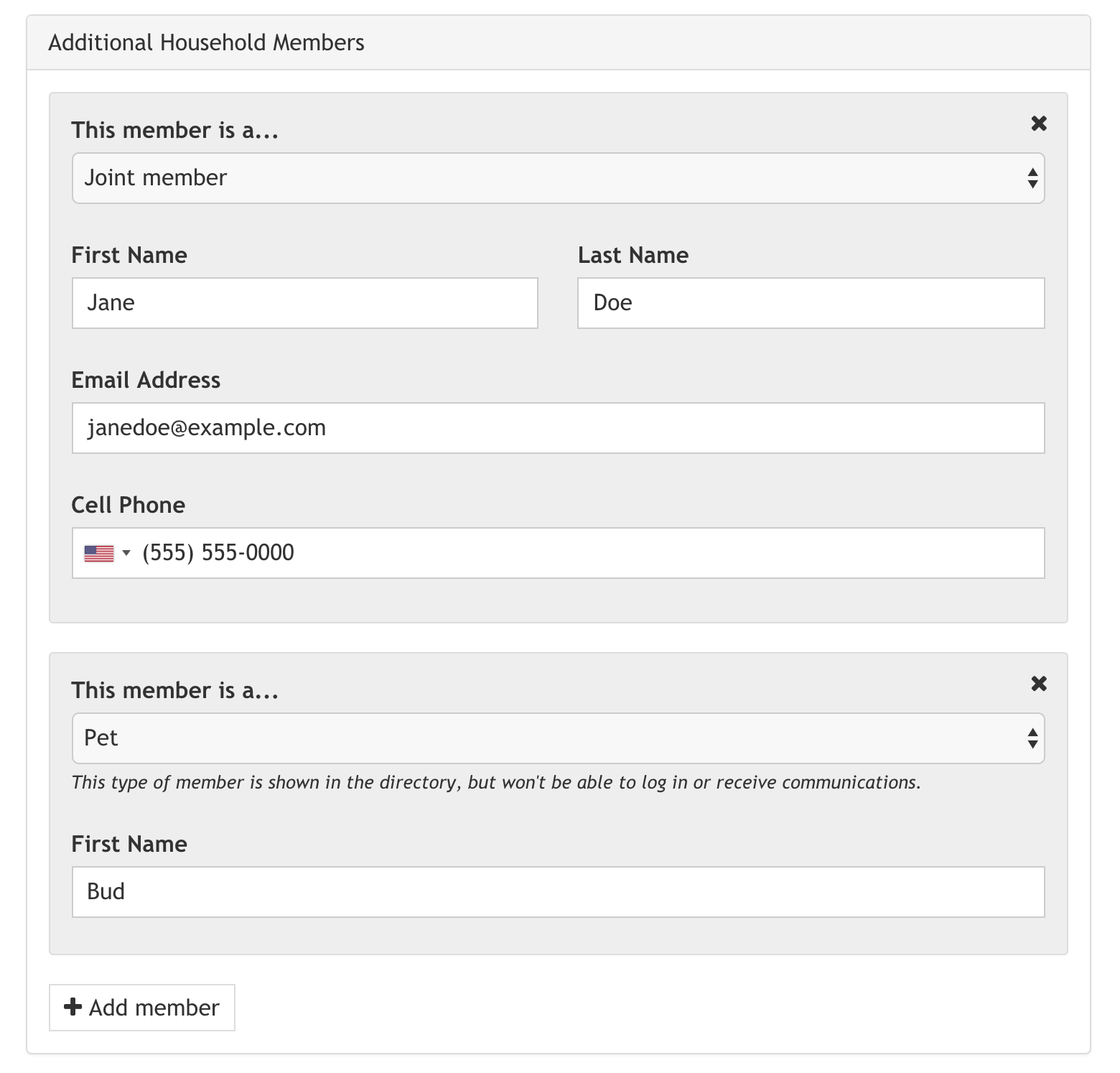 Members can additionally add an unlimited number of physical addresses to their account. This is especially beneficial for those who have multiple lots, units, or houses in their community!
The new release will also allow members to specify which address is their preferred mailing address. This preference will be used by our automated letter mailing feature to send mail to the correct address.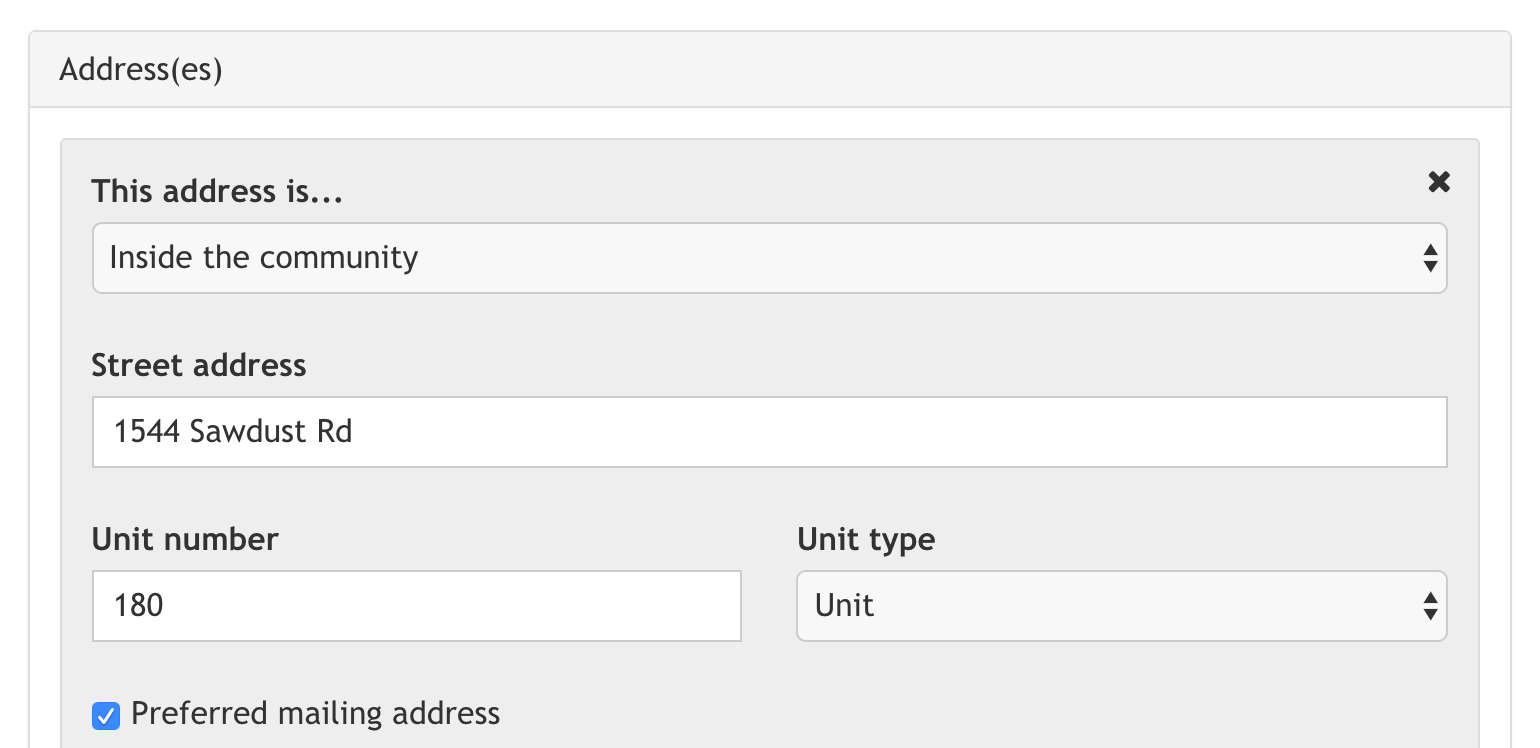 Importing members
For convenience, administrators can bulk import members into their community website. Importing members allows you to create accounts for members in your community that have not already registered. When you import members into your website, you eliminate the need for them to register themselves.
With HOA Express 3.0, we've improved the import process to be faster and more reliable than ever before—especially with larger imports! The process for importing members will be similar to the current one, however, now each row will represent an individual joint member instead of an entire account. All joint members, both full and partial, can be added to the import template. This means you won't need to know a member's email address to import them into your website.
When filling out the template, you'll list the member's account type and their physical address (if applicable). Those with the same account type and address will be automatically grouped together into one account when imported.
In the example below, John, Jane, and James Doe will all be imported into the same account since they share the same account type and physical address. Suzie Smith, however, has a different account type and will have a separate account created.

Wrapping up
The enhancements made to the process of creating accounts will not only offer more flexibility for administrators and members but will also be more inclusive of the different types of members in your community. We're excited to launch these improvements and can't wait for you to try them out yourself!
If you have questions about any of the changes outlined in this blog article, please feel free to contact our customer success team!