Create a domain your community will love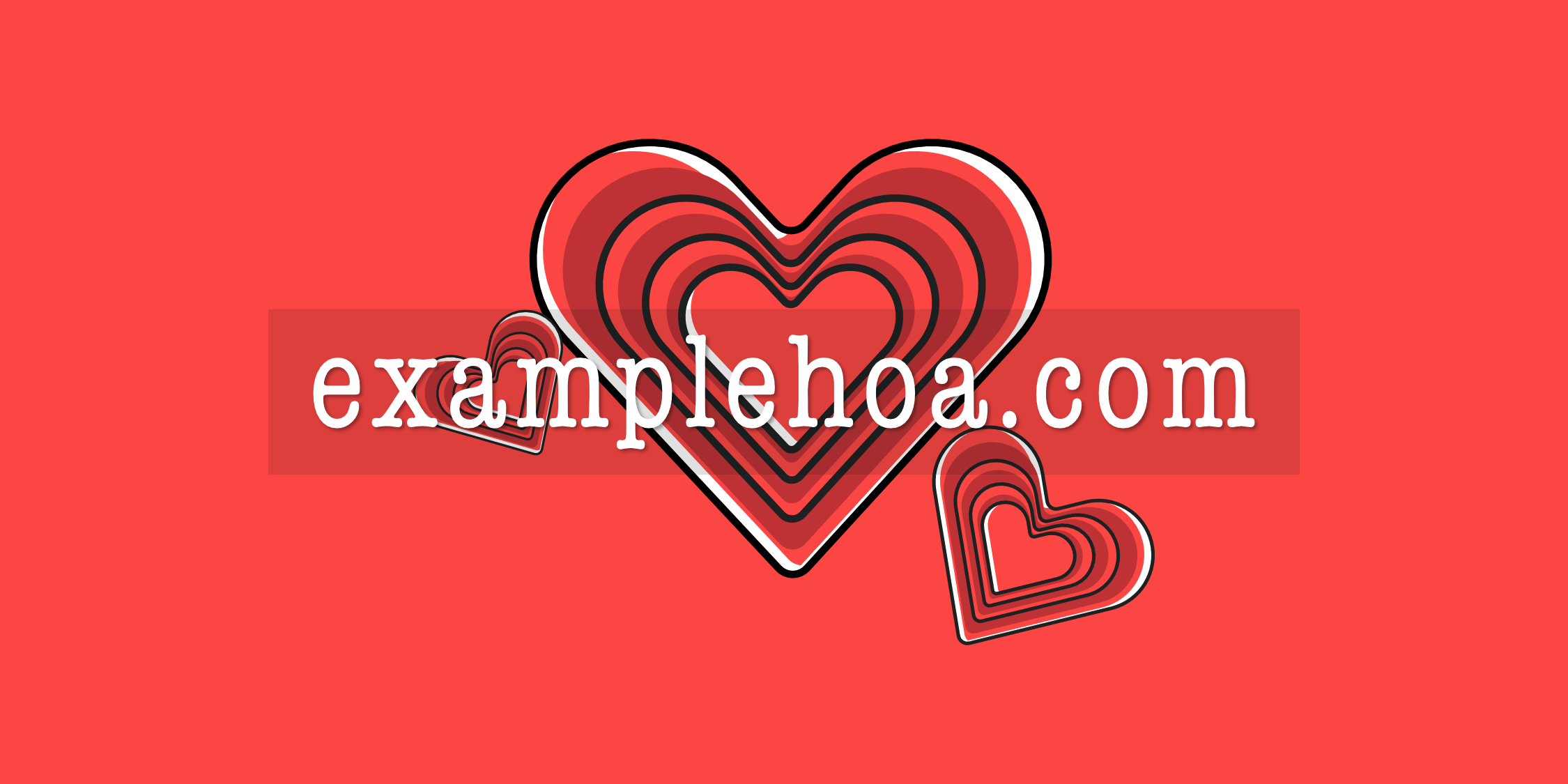 Congratulations! You've created your website and customized it to best fit your community. Now it's time to think about another important factor—choosing a domain name. Your domain name is a unique internet address that will link the world to your website.
When deciding on a domain name, strive to select one that fits your community, is memorable, and is relevant to your website. Often times this will just be the name of your community; however, with hundreds of thousands of new domain names being created each week, you'll want to be mindful of how you approach this big decision.
With Valentine's Day just around the corner, we've thought of 4 actionable steps you can take to create a domain name your community will love!
1. Develop a crush
The first step in selecting a domain is to brainstorm potential names and see which combination of words you like best together. This is the preliminary stage of choosing a domain so see what strikes your fancy and go from there.
We've included some ideas of what you'll want to aim for with your domain, and what you may want to avoid:
To do:
Keep it short! Aim to have your domain be between 5-15 characters. This will make it easier for others to remember, type, write, say, and share. Additionally, there will be a smaller chance of typos when spelling out the domain.
Strive to use ".com" as your extension, if it's available. This is the most widely known and used extension for domain names in the United States. Because of this, most Americans assume domains end in ".com" if they're uncertain, which can be problematic if your community uses an alternative. A close second is the ".org" extension, which is appropriate for organizations like communities. For our international communities, opt for the primary domain extension for your country (for instance, communities in Mexico should generally use ".com.mx").
To avoid:
Avoid adding numbers to your domain. Using numbers could lead to some confusion with which form the number is in. For example, if your domain has the number "2" in it, there is a chance of someone mistyping its form as the word "two."
Another element to stay away from is using non-essential words like "the," "my," "a," etc. This is because those searching for your website could easily forget to include these words and be redirected to different websites. Remember, your domain name should be easily memorable and searchable.
Lastly, steer clear of using double letters between words. For example, "baddomain.com." If your domain includes double letters between separate words, it'll be harder to read and will increase the chances of a mistake when typing your domain in.
2. Date your name
Now that you've brainstormed different domain ideas, it's time to think on the short list you've made of your favorite options. Which domain name really sticks out to you? Does it hit all of the marks for what you would like your domain name to include?
Once you find your favorite domain name, it's time to "date" your domain by seeing if it's available. You can search a domain's availability on a website like Domainr.
If you discover that your domain name isn't available, grieve shortly, but remember there are always other domain names out there! We recommend trying different variations of your favorite domain or returning to your second favorite option to see if it's available.
Below are a few different variations you could try adding to your domain name:
Add "HOA" or "POA" at the end of your domain (eg. examplehoa.com).
Create an acronym from your community's name (eg. ehoa.com).
Append the location of your community to the end of your domain (eg. examplehoatexas.com).
3. Put a ring on it
So you've found your perfect domain name, and it's available! It's time to act fast, commit, and "put a ring on it." Meaning, it's time to submit your domain name request on your website.
Below are instructions for how to submit your domain name request:
Go to your Admin Control Panel.
Click on the "Set one up now!" link from the message at the top of the dashboard.

Choose to set up a "New domain" and type your desired domain name in the appropriate fields.
Click "Submit" at the bottom of the page.
The setup process for a new domain usually takes less than an hour to complete. Talk about a quick engagement!
4. Marry your domain
Once your new domain is in place and is "married" to your website, you'll want to fully commit to it by working at enhancing its search engine rankings. The higher it lists in search results, the easier it will be for residents to find your community website!
With newly created domains, it can generally take a few weeks for them to show up in searches since Google and other search engines take some time to discover and index newly created websites. However, you can help speed this process along and enhance your domain's search engine optimization by following a few tips we've listed for you below:
Add links to your community website from other websites. You could add links from social media pages, your management company's website, your local government's website, etc. The more links from high quality websites, the better.
Include well-written, appropriately-related text for each of your pages, especially the homepage. Adding text that is relevant to your community and pertinent to the individual page helps Google understand what the website is about and what each page is for.
Update your website occasionally with new quality content. This lets search engines know that your website is active and can improve your search ranking.
Of course, we've taken numerous steps on our end to help ensure your domain ranks well in searches. Our websites are designed to be easy to index for search engines, each website is 100% mobile optimized, every website is protected with SSL, our high performance websites load rapidly, and all our designs follow search engine best practices.
Wrapping up
Taking the time to go through each step is important to ensure the domain name you select fits your community perfectly. Choosing a domain name your community will love shouldn't be a chore. Rather, have fun, get creative, and enjoy the process!