Taking your homepage to new heights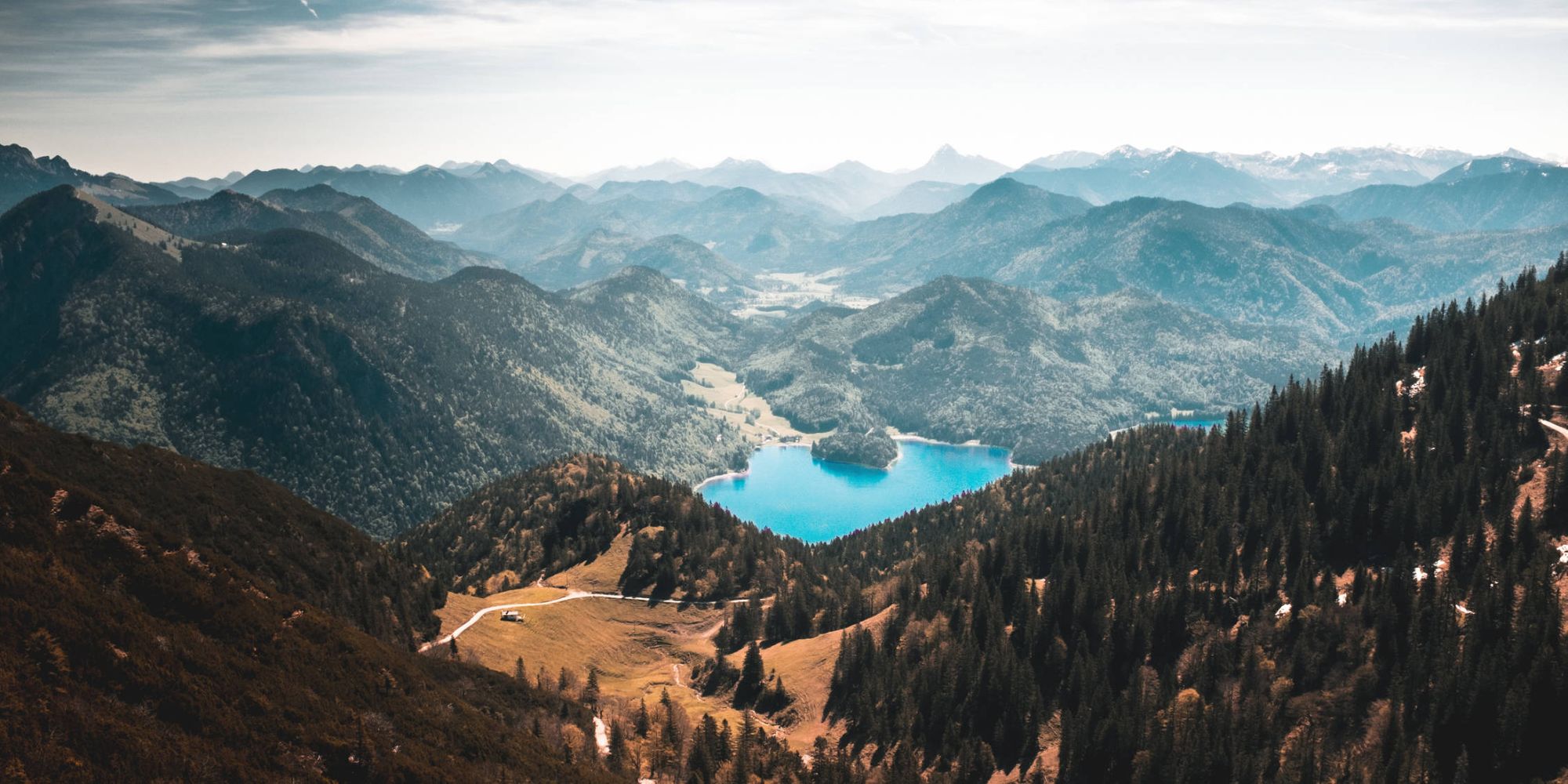 Your website provides a space to showcase the unique qualities of your community. One of the most prominent pages you can customize to do this is your homepage.
With this in mind, we've developed ways for you to fuse both uniqueness and purpose on your homepage. In this article, we'll be revealing the "hidden jewels" available to you on the homepage that will help you add a touch of character and take your website to new heights.
Visit your homepage and click the "Modify settings" button to begin exploring these options!

Weather
Post the weather for your community using the "Show the current weather" setting. Our system will use your community's location added in the "settings" section to display the weather in the top right corner of the banner photo.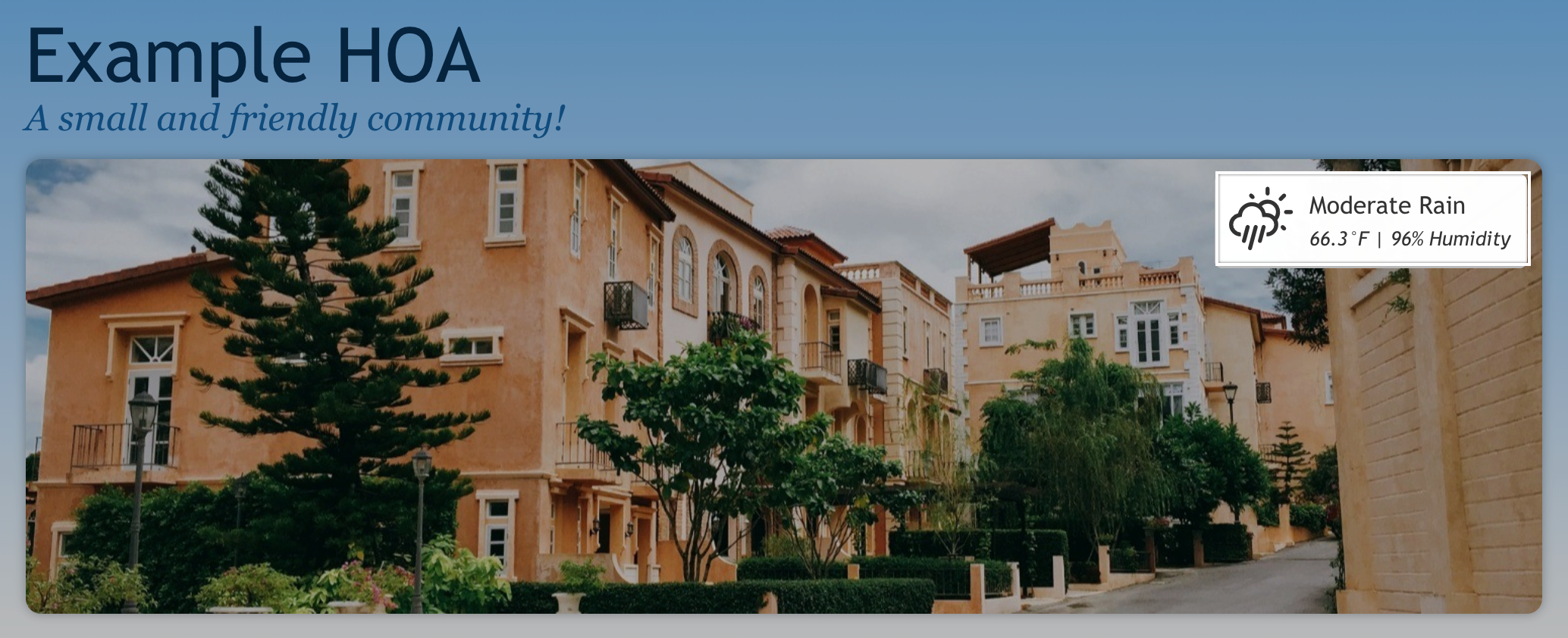 Post an alternate city for weather
Usually, our system is able to gather data from your local weather station. Although rare, the following outlines a few situations when adding an alternate location may be necessary:
The weather station for your particular city and state is inaccurate.
Your community was identified as an area such as "Northwest Houston" instead of an exact city.
The weather does not load for your community's location.
News and events
Feature the latest news in your community by selecting the option "Show recent news articles." With this setting, recent articles posted to "news articles" page types will appear towards the bottom of the homepage.
In addition, we recommend the "Show upcoming events" option to keep upcoming events pinned to resident's homepage. Keeping a rolling list of these events visible on the homepage can serve as a reminder to those in your community of what's ahead.
When choosing to add these two options, please know that the homepage will only display the news articles and events from pages that the resident can actually access. This way, the information posted stays aligned with the page restrictions in place.
Watch this GIF to see where recent news articles and upcoming events are posted on the homepage: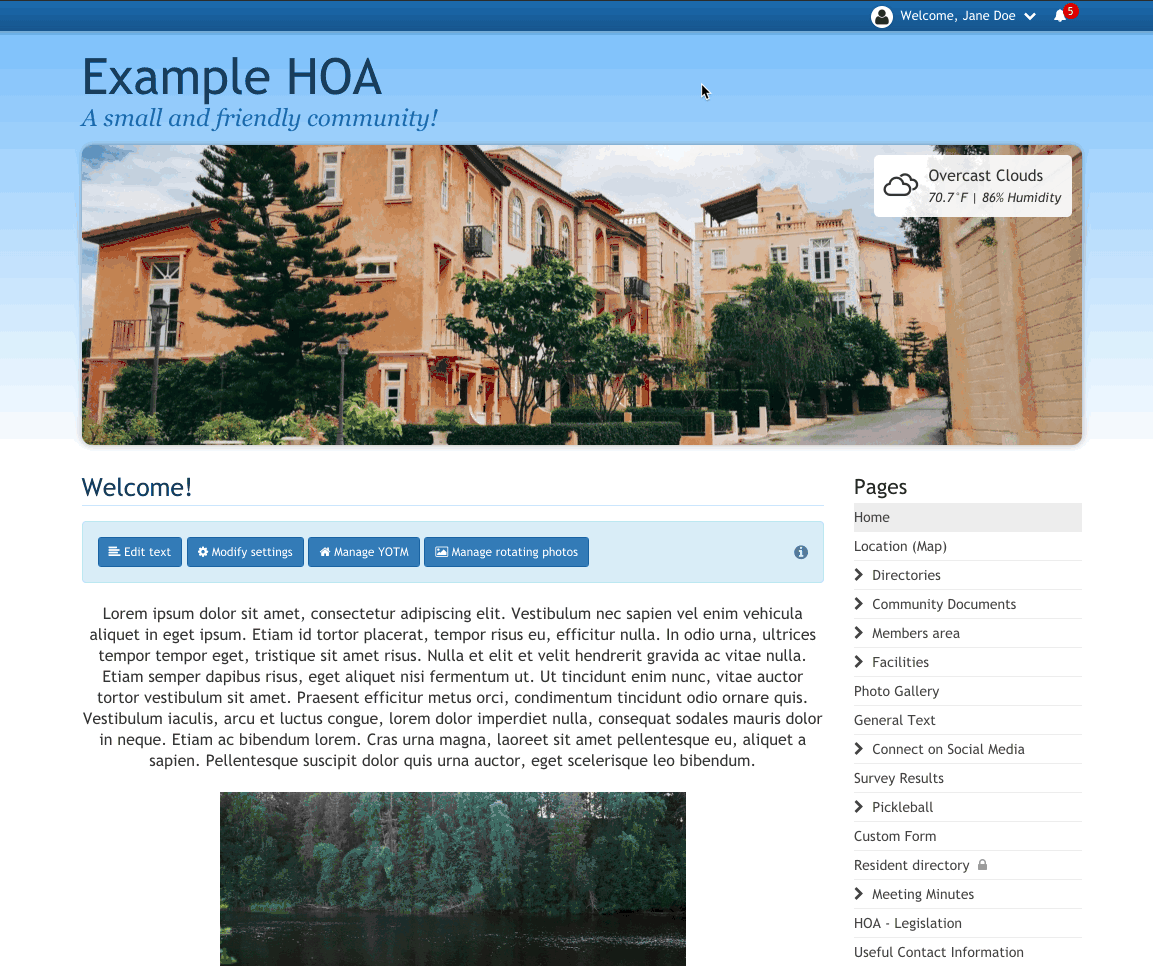 Yard of the month
Spotlight your community's yard of the month winners! The "Manage YOTM" option provides a way for you to upload a photo of the yard of the month winner, as well as enter a short description of the winning home.
Click the "Show yard of the month" box and voila! The winning yard will get published to your homepage and visible for all residents to see.
Check out this GIF to see where this setting is located and how it can be applied.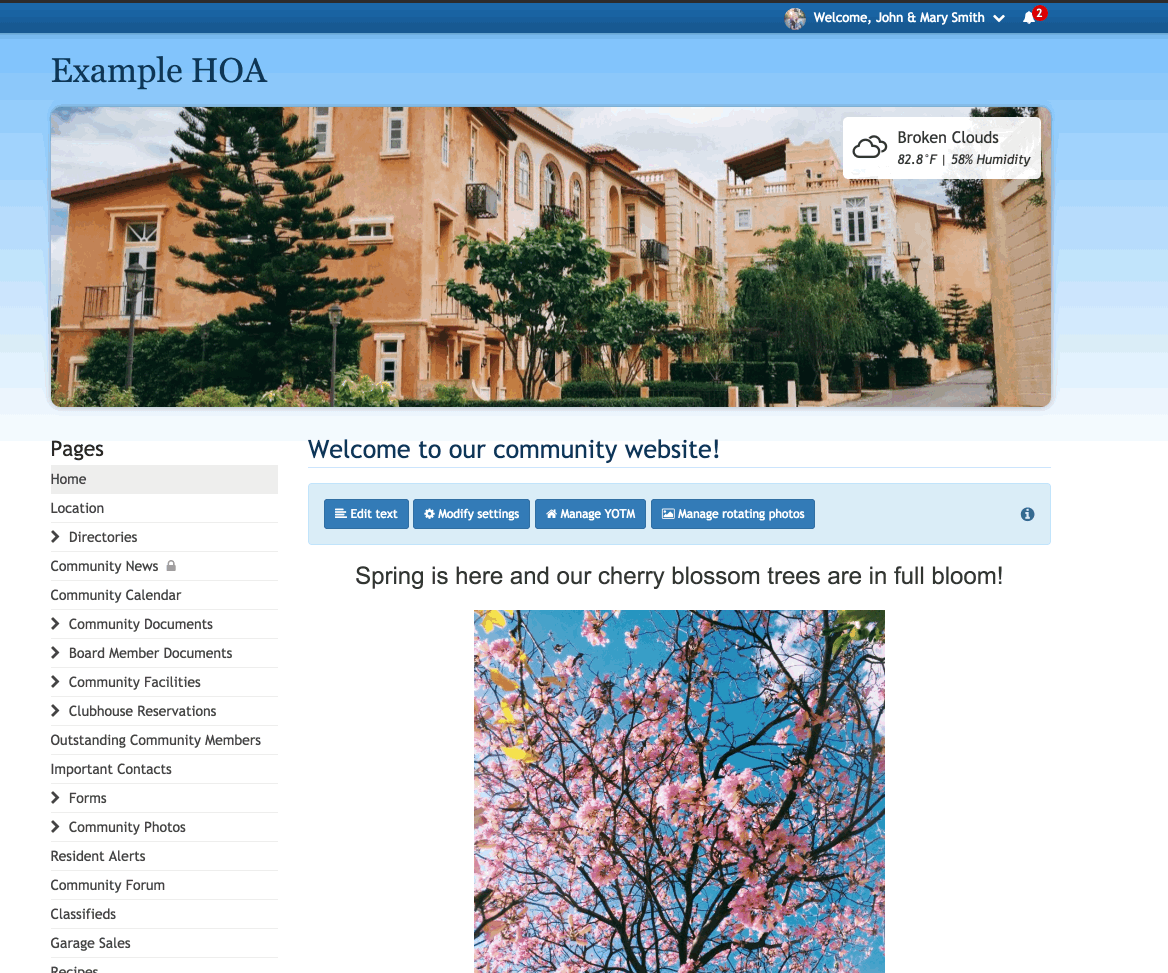 Rotating photos
In addition to the banner photo you've added, we encourage you to post several additional photos to rotate and display below the page list. Click the option "Manage rotating photos" to add photos that are saved to your computer.
This can be a helpful tool when presenting new board or committee members to your community. Include the photos of each newcomer and allow residents to get familiar with them.
Another great way to use this setting is to display pictures of your community's amenities or photos that were taken at a recent event. You can also spotlight people, community grounds, and more!
Take a look at the GIF below to see how to get started and how the photos will appear.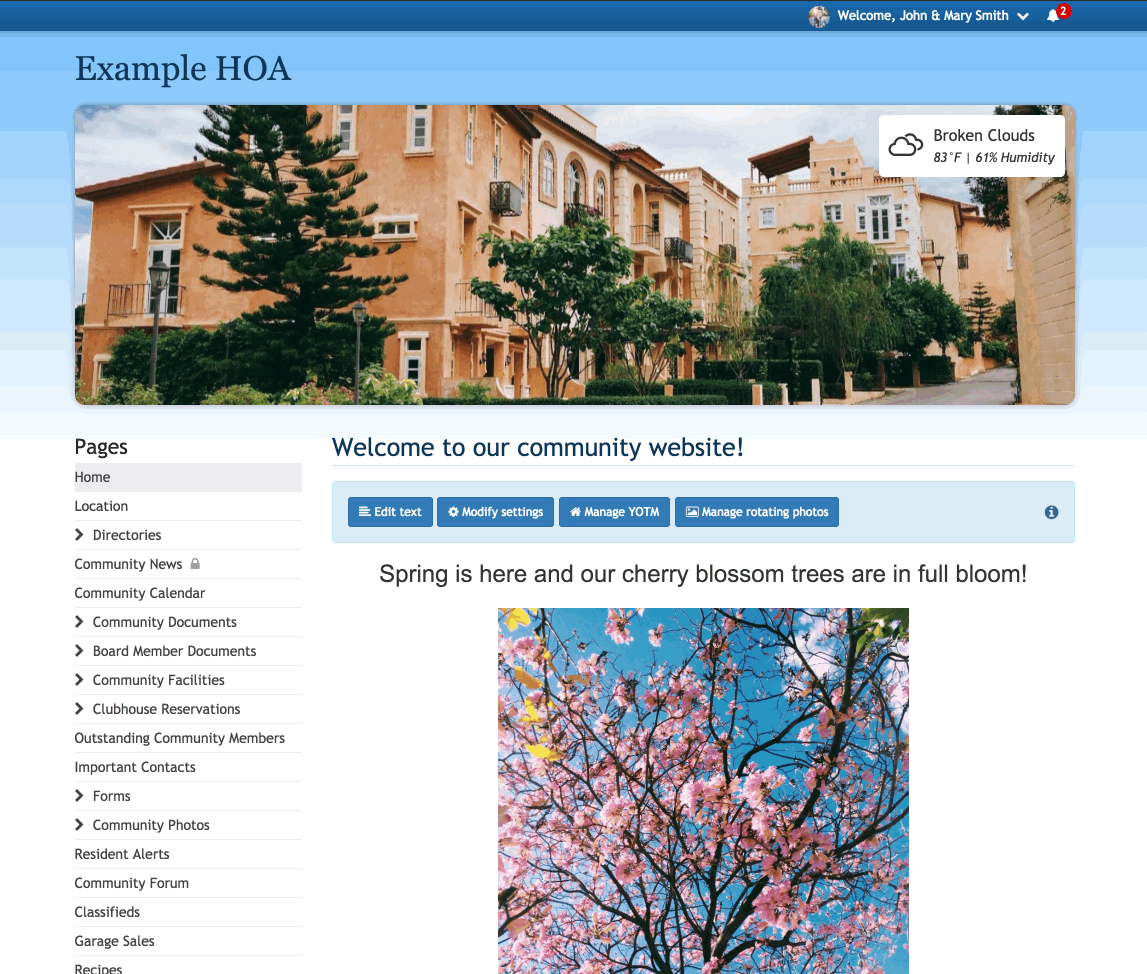 Wrapping up
Take your homepage, and in turn your website, to new levels by enabling these settings available to you. Enhancing your homepage can add character to your website and is an easy, fun way to customize your website to best suit your unique community.
Additionally, having recent and upcoming information readily available for residents to view will keep them coming back for more!