Streamline forms with these two pages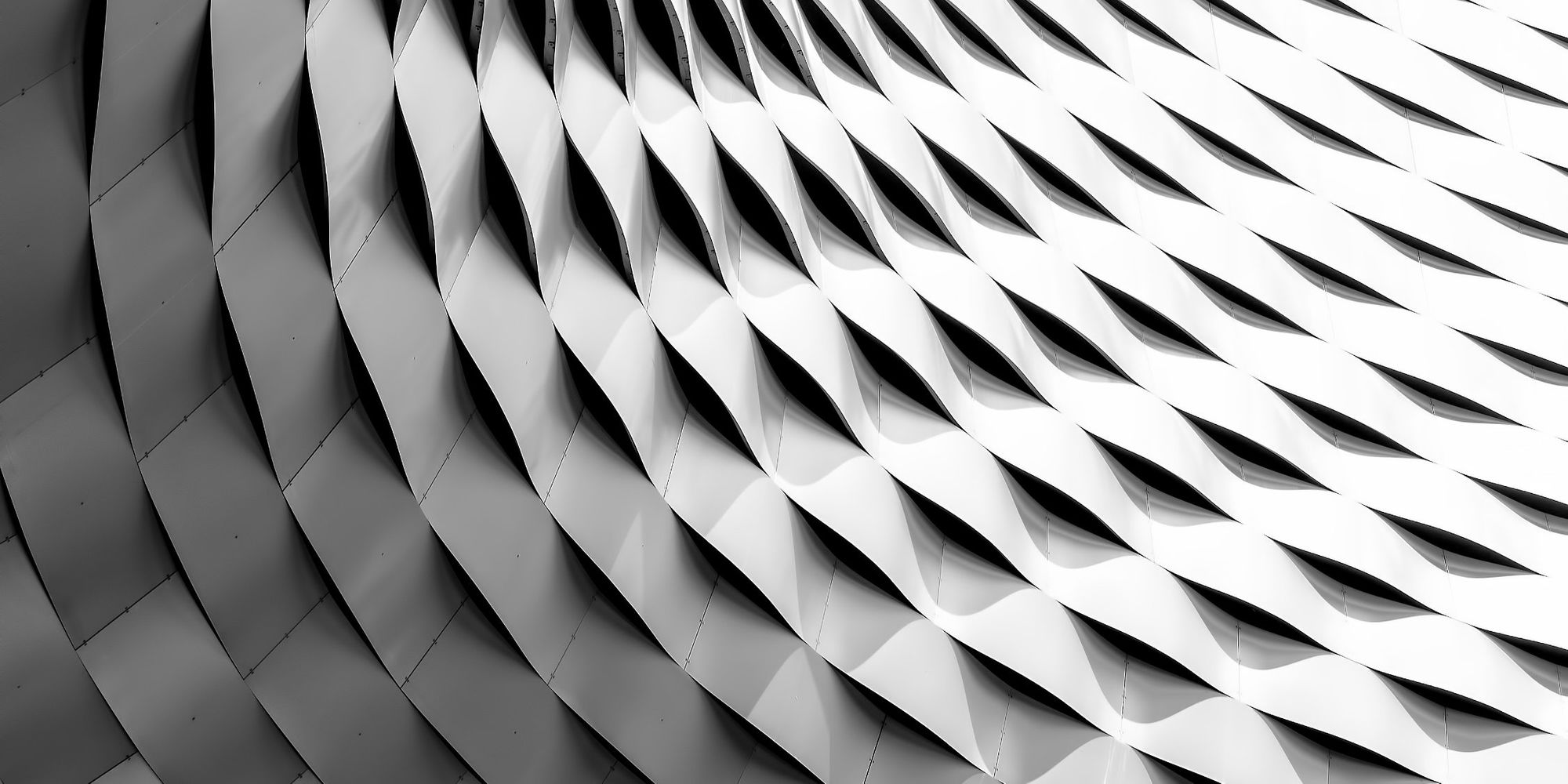 Collecting information from residents is often times a vital part of managing a community. Whether it's obtaining a specific application, request, or to simply provide a way for residents to get in touch, it's important to know your options.
Therefore, we encourage administrators to become familiar with the two "form" page types that are available. Read below to understand the differences between them and for tips on how to implement them on your community website.
Contact Form
The "contact form" page type is designed to give residents a way to send a message to a group or individual directly from your website. Therefore, you'll find that after adding this page, all fields that are necessary for gathering basic contact information along with a "message" field will appear automatically.
Although there's no setup needed for the fields, you will be required to specify who the form should get sent to. When a resident submits the form, all recipients listed on the form will receive an email containing the resident's message and contact information. When deciding on who to add to the form, it's important to know that you may add one or more individuals, groups, or email addresses.
Tips
This form works great when there are specific teams handling certain areas of your community (e.g. board members, maintenance team, social committee, etc.). Add a "contact form" page for each team's area and add each team as the recipient of their own form. This way, residents can contact the teams accordingly by submitting the "contact form" page associated with each area.
Another great use for this page is to leave it open to the public for anyone interested in moving to your community. With this page, they'd have a way to request more information. (And don't worry about spam—our forms include advanced, invisible spam-protection measures to keep robots out of your inbox.)
Take a look at how to add this page to your website in the GIF below: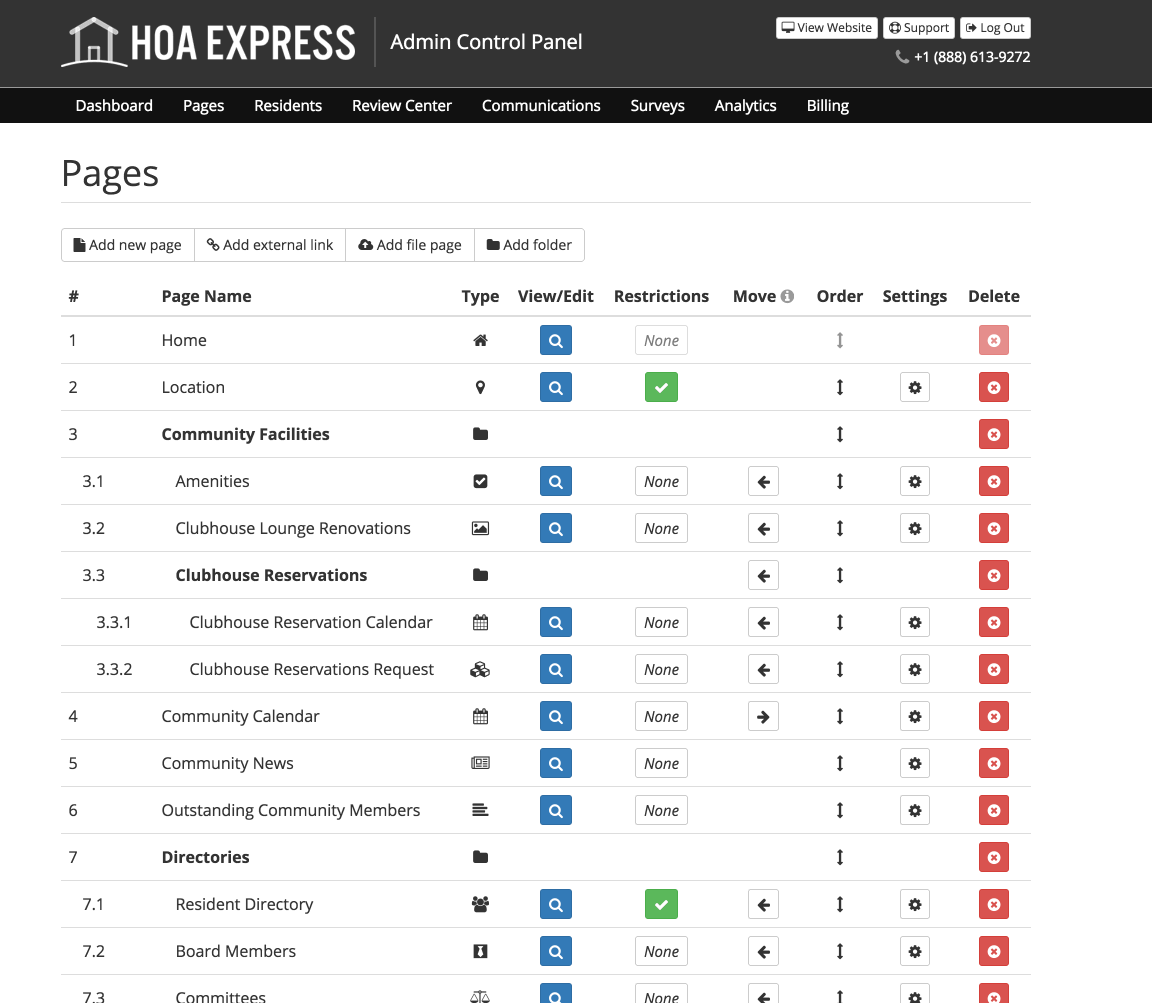 Custom Form
There are many forms that a community may need their residents to fill out and return back to them. To build more customizable forms, we'd recommend adding a "custom form" page so residents can submit these forms through your website.
Unlike the "contact form" page, this page is flexible in that there are many options available to help you create a form from scratch. With elements such as text input fields, radio buttons, and checkboxes, you have the ability to transform paper forms into electronic versions of themselves!
Also, before adding a field to your form, choose how large or small that field should be. For example, a field requesting a resident's name should be shorter than a field requesting an address. Or, when adding a field to request a specific type of data, there are options for that as well. For example, if adding a date field, you'd want to pick the special purpose labeled, "Date". This way, residents will be required to choose a date from a calendar instead of entering a date into a free form field. This can help prevent invalid information, such as an invalid date, from being submitted on your form.
For those forms that require extra documentation, there's an element for that too! Add a file upload field so residents can attach files saved to their computer and send it through with the form.
Tips
Consider adding a "custom form" page if your community requires residents to first gain approval before making modifications to their property. Build a form that contains all of the fields you will need in order to evaluate the request and make a decision. Perhaps add a field where residents can attach extra documentation such as the survey for their property or specifications of their proposed project.
Another way to incorporate a "custom form" page is if residents are allowed to reserve community amenities. The "custom form" page can serve as the reservation request that residents can fill in and submit for approval. Include fields that will provide you with the event details such as date, time, number of people, and type of event.
Watch the GIF below to see an example of a custom form page and to a get a glimpse of the form elements available to you.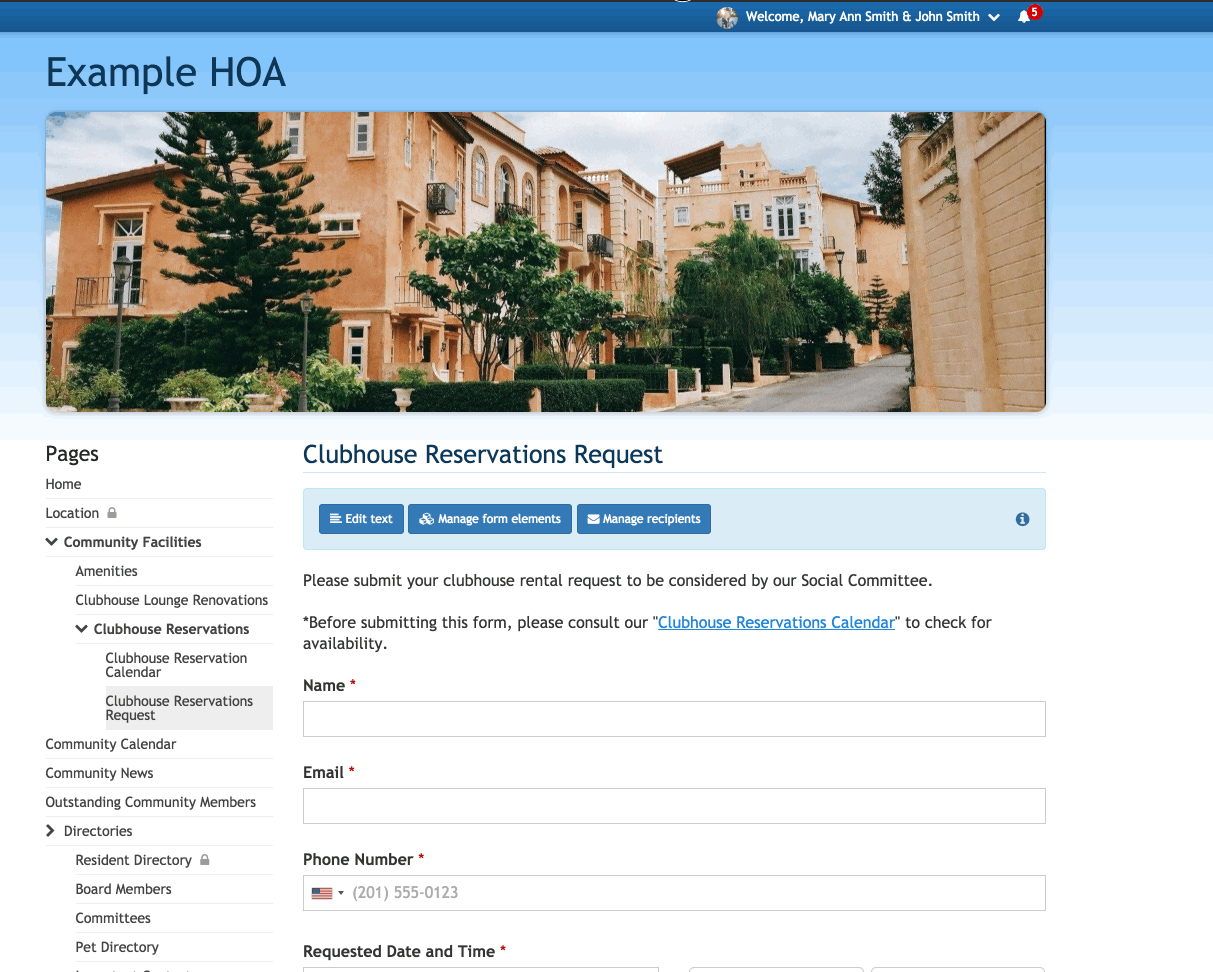 Wrapping up
If you've found that your community is in need of simplifying the process of collecting forms from residents, you may want to consider adding one, or both, of these page types to your website. Whether you're looking for a simple contact form or would like to make it your own, you have the capability between these two page types!