Swap meet: your community's new way to spring clean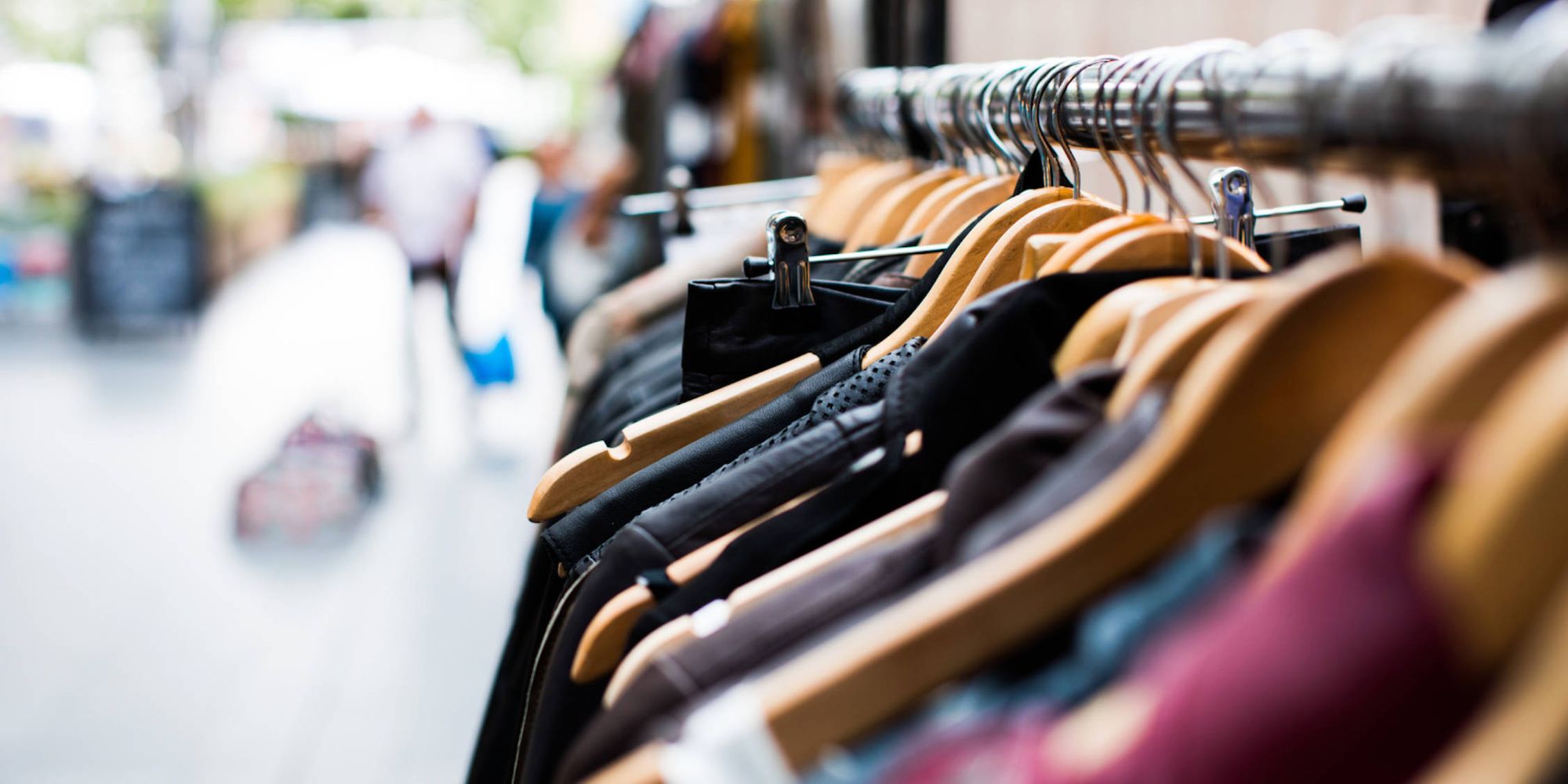 Decluttering and organizing our homes is "on trend" right now and this is one fad you'll likely want to join in on. Most everyone has unwanted and unused items cluttering their homes, and what better time to go through and get rid of those items than during some good old-fashioned spring cleaning?

While spring cleaning may have you immediately thinking of breaking out the cleaning supplies, we have another method in mind that will not only help you get rid of those items but also potentially gain new ones that you need or want. You can achieve both of these results by hosting a community swap meet!
What is a swap meet?
A swap meet is a community event where participants swap or give away items they no longer need to their neighbors. This is similar to your traditional community garage sale, but instead of hosting this for profit, you exchange items with your neighbors, so you're each gaining something you need at no cost to you or them.

Additionally, hosting a swap meet not only helps to foster community relationships but is also an environmentally conscious option by recycling these items instead of throwing them into a landfill. Win-win!
Planning
First, you'll want to conduct some preliminary planning, like figuring out the best date and time to host the swap meet. Since this event relies on community participation, you'll want to make sure this is hosted when the majority of those who'd like to participate are available. A great way to gather this feedback is to use the "Surveys" feature on your community website! You can create a survey with options of dates and times to host the event and review the results for the most popular option. We've provided an example of this below: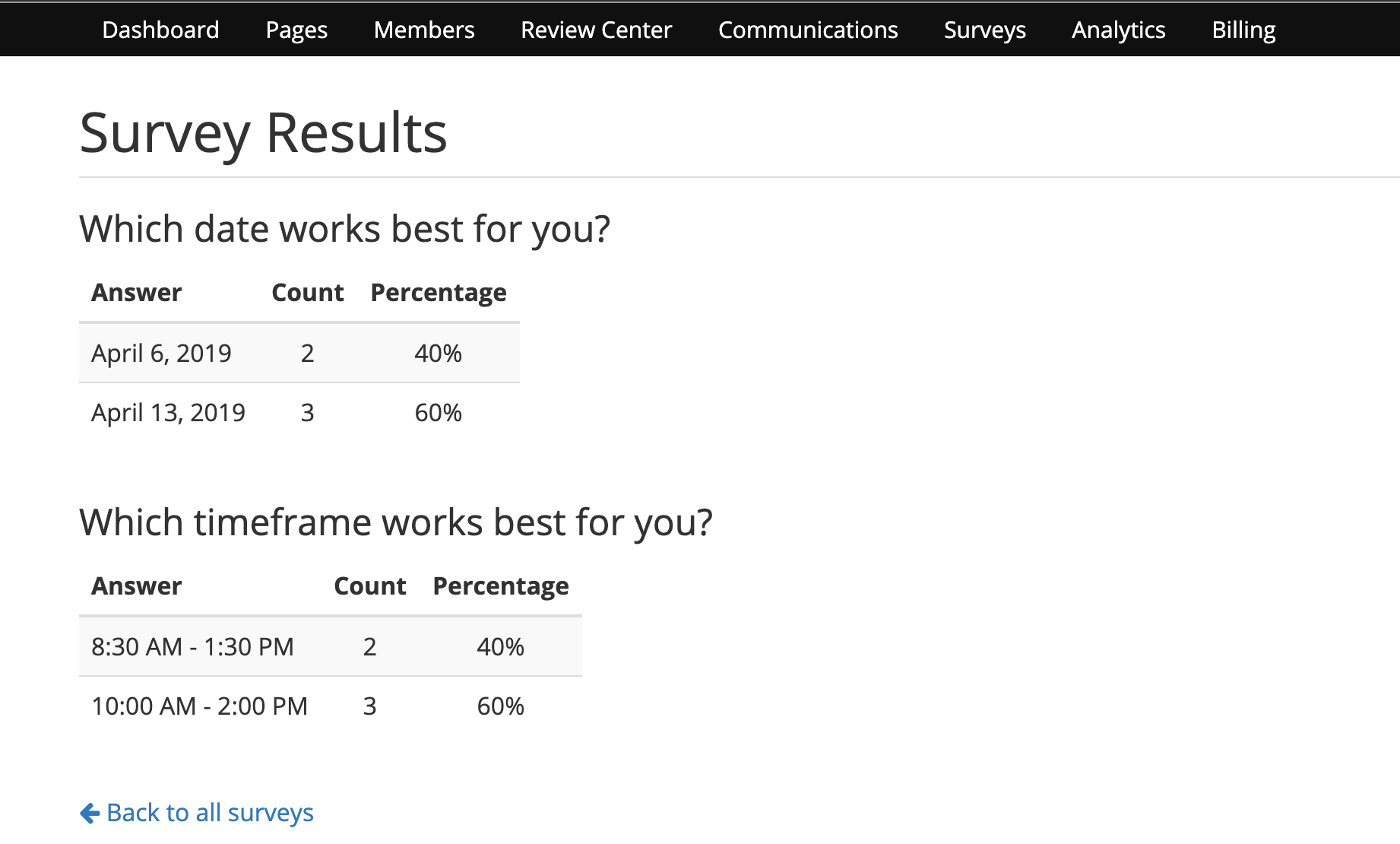 Once you have a date and time selected, the next task is to select where to host the swap meet. You'll want to pick a location that offers enough space for all of your members to set up stations and walk around to peruse what else is on offer. As a note, if you decide to host this in a public area, make sure to check if there are any city permits you'll need to obtain ahead of time.
We've listed a few options of where you could potentially host a swap meet below:
A community clubhouse
Nearby parking lot
Local green space or park

After these details have been set, it's time to spread the word to your community members!
Broadcast your event
In order to have high attendance for the swap meet, you'll need to make sure they're aware of the event. Therefore, it's essential to spread the word! There are a few easy ways of doing this we recommend and have outlined below.
First, add the event to the community calendar on your website. In here, include all of the event details participants will need to know. You can additionally enable the RSVPing feature to get a better idea of how many members will be participating. Before hitting create on the event, be sure to select to send out a blast email to all active members so they're all aware of this new event!

Once the members are aware of the event, you can send out additional blast emails leading up to it that provides them with any additional information they may need to know. Additionally, if you have your website settings set to send out a What's Happening email, a reminder of the event will be automatically sent out prior to when this will take place.
Time to swap
On the day of the swap meet, be sure to send out another reminder to your members, reminding them of when and where this will be taking place. Both the blast emailing and text messaging features on your website are a great way to quickly notify members of this information.

At the location of the swap, make sure all participating members have a station to set up the items they'd like to swap. Also, having refreshments, snacks, and good tunes will help to keep the mood of the swap energetic and keep your members engaged!
Post-swap
Once the swap meet is over, there are likely to be some leftover items. Since the purpose of the swap meet is to pass on the items you don't want or need, we recommend taking these items to a local donation center instead of taking them back home or throwing them away. You can even organize a team to take care of this after the event.

It can also be helpful to gather some feedback from your community about how the event went. You can use the "Surveys" feature to ask them questions like, "What do you think worked well?" "What could be improved on in the future?" etc. Gathering community input about an event can be valuable when planning for it again in the future.
Wrapping up
Hosting a swap meet is a fun and resourceful alternative to old-fashioned spring cleaning. While taking time to organize and plan the event is essential to its success, this doesn't have to be a time consuming or difficult task. By utilizing the features available on your website, you can plan and notify your members of this event easily and all in one place.

Adding a swap meet to your community calendar is a great addition if you're looking for an event that will help to foster community relations, pass on items no longer in use, and gain some new ones you've been wanting. Happy swapping!